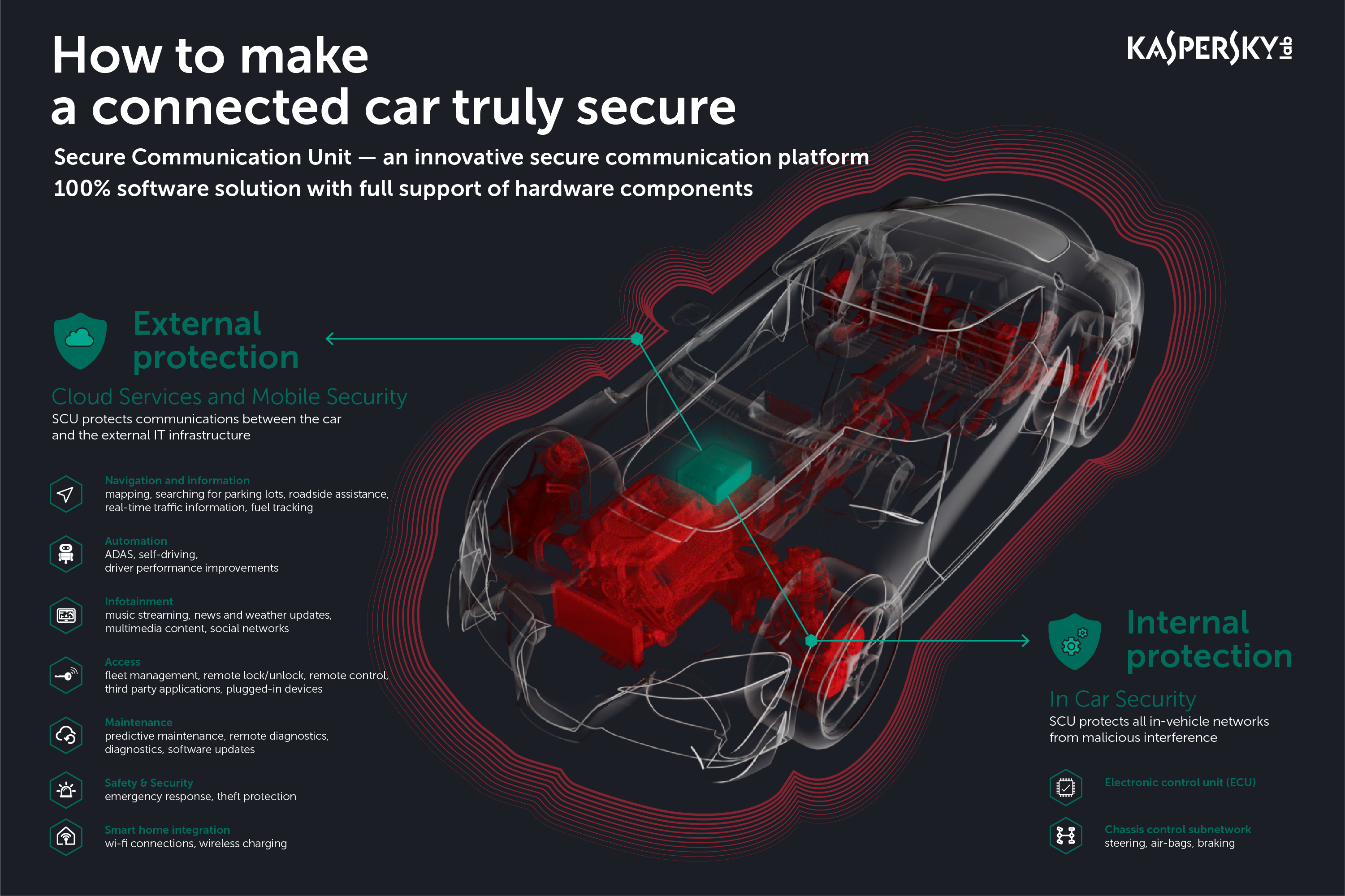 Având în vedere că industria mașinilor conectate și autonome trebuie să rezolve o serie de probleme din domeniul securității cibernetice, Kaspersky Lab și AVL Software and Functions GmbH inaugurează Secure Communication Unit (SCU) în cadrul New Mobility World/ IAA 2017, organizat la Frankfurt. Prototipul soluției de securitate demonstrează posibilitatea unei comunicări  ce nu poate fi interceptată –  între mașină, componentele sale și infrastructura externă conectată, făcând mașinile conectate sigure încă din faza de proiectare.
Cu fiecare generație, mașinile încorporează noi tehnologii inteligente pentru diagnoză de la distanță, telematică, conducere automată și autonomă, asistență a șoferului de la distanță și infotainment. Bazate pe vehicule cu actuatori electromecanici, comenzile mașinii devin sisteme cibernetice din ce în ce mai complexe, cu senzori multipli, aplicații, sub-rețele și module de comunicare care interacționează cu alte vehicule și cu mediul lor. Funcțiile lor pot fi controlate de la distanță, prin sisteme digitale. Din această cauză, mașinile conectate încep sa devină ținte ale atacurilor cibernetice.
Numărul în creștere de aplicații ale terților și complexitatea sistemului mașinilor conectate, precum și intensificarea dinamicii ciclurilor de actualizare a programelor care folosesc variante de tipul "over the air", îngreunează testarea întregului sistem pentru a se sigura că bug-urile, backdoor-urile și problemele de structură nu sunt trecute cu vederea. Rolul soluției Secure Communication Unit este acela de a realiza mașini conectate sigure din faza de proiectare, indiferent de software-ul terț și de celelalte sisteme încorporate. Secure Communication Unit este o unitate de control pentru punctul de intrare a comunicațiilor, conectată cu câteva sub-rețele și/sau elemente de control al acestor sub-rețele din interiorul rețelei mașinii, care acționează ca un punct unic și securizat pentru fluxurile de comunicare care intră și ies. Bazat pe aplicarea unei politici stricte de securitate și pe o separare clară pentru a preveni contactele nedorite dintre diverse componente ale mașinilor, programul contribuie la asigurarea unor comunicații sigure în interiorul rețelei mașinii.
Platforma Secure Communication Unit include componente eficiente de securitate. În primul rând, sistemul de operare proprietar (KasperskyOS) este bazat pe principii solide de dezvoltare și conceput special pentru sisteme integrate cu cerințe stricte de securitate cibernetică. Sistemul de operare Kaspersky elimină posibilitatea apariției unor funcționalități nespecificate în cod, și, în același timp, diminuează riscurile unui atac cibernetic: chiar dacă un cod neautorizat este integrat, el nu va fi executat deoarece, în mod implicit, orice funcționalitate nespecificată în cod este interzisă. Alte componente includ modulul de verificare a politicii de securitate (Kaspersky Security System), care definește scopul și caracterul interacțiunii dintre diferite componente, și o structură de încredere cu un set de criptoalgoritmi.
Prototipul Secure Communication Unit prezentat este implementat în arhitectura ARMv7 cu 128 de MB memorie RAM și IOMMU. Alte platforme HW pot fi dezvoltate de la caz la caz, în concordanță cu cerințele unui anumit producător.
Platforma oferă un cadru de soluții pentru aplicații personalizate, permițând producătorilor de mașini să dezvolte și să implementeze variante unice Secure Communication Unit în mașinile lor, bazate pe  un hardware specific și componente software adiționale, în conformitate cu planurile de fabricație. Secure Communication Unit este disponibil pentru OEM-uri (Original Equipment Manufacturer), ODM-uri (Original Design Manufacturer), integratori de sistem și dezvoltatori de software din întreaga lume.