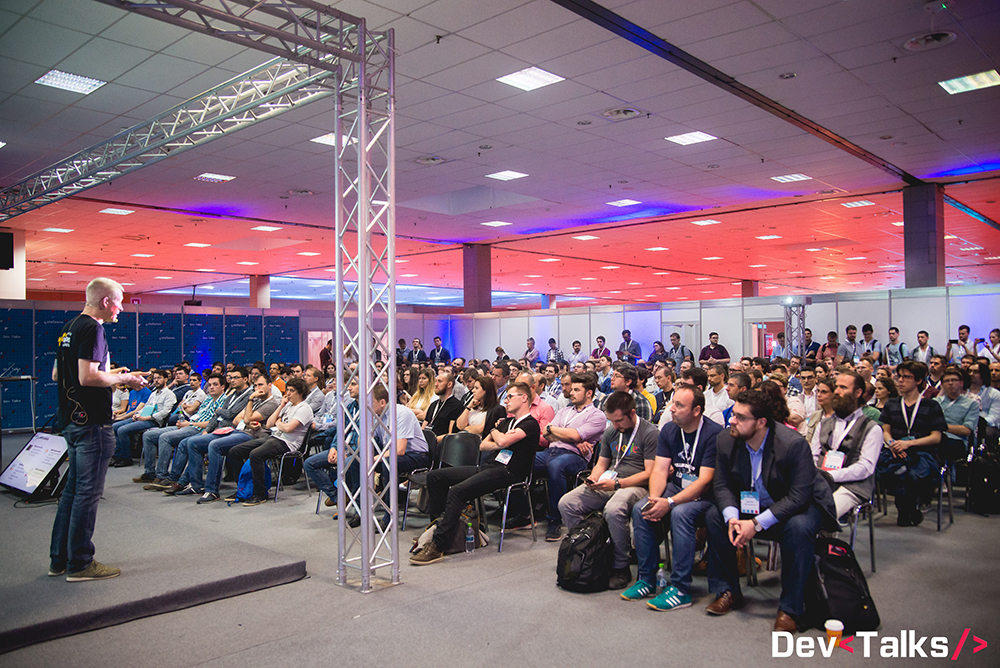 Mâine, pe 8 iunie, la Romexpo C1 și C2, în București, are loc DevTalks, cea mai mare conferință dedicată comunității de profesioniști IT din România. Peste 90 de speakeri locali și internaționali și 1000 de  profesioniști pasionați de tehnologie sunt așteptați la cea de-a cincea ediție a evenimentului. Zona expozițională va aduce împreună peste 30 dintre cei mai mari jucători din industria IT&C, startup-uri tech, dar și momente dedicate divertismentului precum demonstrații cu roboți, tehnologii de ultimă oră și concursuri de programare.
Companii de top care activează pe piața din România susțin cel mai mare eveniment dedicat profesioniștilor IT. Anul acesta, DevTalks este realizat împreună cu sprijinul partenerilor: London Stock Exchange Group, ING Tech, Metro Systems, Harman, Netcentric, UiPath, Crossover, eMAG, Dell, Verint, Stefanini, Ericsson, Luxoft, Endava, Accenture, Deloitte, BearingPoint, DB Global Technology, Hey – Be Well, Resin.io, Kambi, Team Extension, Asseco, Axway, Every Matrix, Systematic, Taxify, Gameloft, Amazon Web Services, Nordic Web Team și MySQL.
Agenda DevTalks este organizată în jurul a 7 conferințe pe teme de actualitate precum Emerging Tech, Web&Mobile, Datafication, DevOps, Java, Automotive și Product Management. La această ediție, peste 90 de speakeri locali și internaționali din SUA, Hong Kong, Marea Britanie, Germania, Olanda sau Danemarca vor urca pe scena DevTalks. La eveniment vor fi prezenți speakeri din cadrul companiilor de toprecum Dee Liyanwela – Executive Director, Technology & Head of LSEG SRI LANKA; Michael Busch – Head of Technology, ING Tech; Sergiu Zaharia – Security Advisor, BearingPoint România; Jürgen Boekholt – Managing Director, METRO SYSTEMS România și COO – METRO-NOM.
Parte din experiența DevTalks este și zona dedicată startup-urilor tech care vor avea ocazia să își prezinte produsele sau serviciile în zona expozițională, cât și să promoveze planurile de dezvoltare și ideile de business pe scenele de Emerging Tech și Product Management. Pentru a crea o experiență completă, la eveniment vor fi prezenți mentori precum Silviu-Tudor Șerban, Cătălin Grigorescu, Mălin Iulian Ștefănescu, Ana-Maria Udriște și Mihai Ionescu. Partenerii care susțin zona de startup-uri la această ediție sunt Techcelerator, iar printre startup-urile prezente la eveniment se află Wyliodrin, WireFame, BrainyAnt, TypingDNA, BOX2M sau Helios Vision.
Și la această ediție, zonele de Networking și Fun vor facilita interacțiunea dintre participanți, dar și momentele de relaxare din cadrul evenimentului. Participanții vor putea asista la lupte cu roboți din cadrul Robochallenge, dar și la demonstrații susținute de roboți din partea echipelor Qube, Team God și Team Xeo. În zona expozițională va fi prezent și robotul Sawyer de la SMART ID care va realiza o serie de activități care vor asigura buna dispoziție a participanților, iar experiența VR va putea fi testată la eveniment cu ajutorul partenerilor de la VR Escape Room și Loop VR Solutions. În cadrul DevTalks, participanții vor putea testa în avanpremieră jocul Unbound realizat de Alien Pixel sau își vor putea face poze personalizate alături de prieteni cu ajutorul cabinei foto oferită de partenerii de la Cabina Trăsnită. În plus, pasionații de gadget-uri sunt asteptați la standul Gadgetway.
Spațiile de relaxare vor fi asigurate de COS, Chairry, LazyBoy și Mobila Dalin, iar în pauze participanții se pot destinde cu sesiuni de masaj din partea partenerilor de la Relaxopedia și Pauza de Fructe. Toți participanții vor avea acces pe durata evenimentului la gustări de la Pauza de Fructe, cafea Tassimo și apă asigurată de Aqua Carpatica. În încheierea evenimentului, participanții sunt așteptați la barul realizat cu ajutorul partenerilor Peroni.
Mai multe detalii despre evenimentul DevTalks București pot fi accesate pe http://www.devtalks.ro/bucharest/