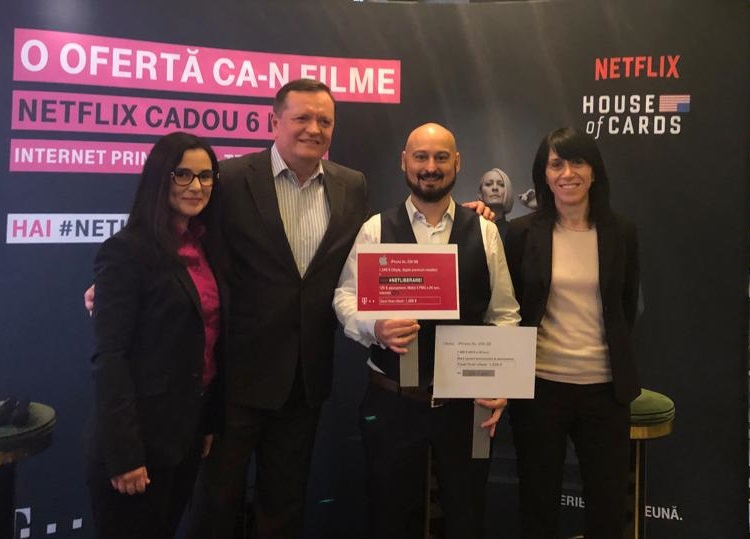 În contextul tendințelor și cerințelor de piață din industria de telecomunicații, Telekom Romania vine cu o nouă ofertă adresată clienților rezidențiali, cu accent pe simplificarea portofoliului de servicii și diversificarea conținutului, totul în paradigma îmbunătățirii experienței clientului.
Ofertele Internet 4G Nelimitat, lansate sub promisiunea #Netliberare de la Telekom, continuă de un an, iar astăzi, sub aceeași promisiune, Telekom Romania anunță oferta simplificată 5-5-5 euro pentru fiecare serviciu, bonus 6 luni Netflix cadou și un singur plan tarifar simplificat pentru serviciile Internet fix:
Abonament mobil fără perioadă minimă contractuală cu bonus Net 4G Nelimitat de la 5 euro / lună;
Smartphone-uri Samsung în rate fixe, fără dobândă și avans zero, și bonus 6 luni de Netflix gratuit pentru abonamente mobile la 5 euro / lună disponibile clienților noi de servicii integrate (fix-mobil), cât și clienților care au deja servicii fixe și achiziționează un abonament de servicii mobile;
Servicii de televiziune și Internet fix, fiecare la 5 euro / lună, plus 6 luni de Netflix cadou, cu abonament mobil;
Portofoliu simplificat la un singur plan tarifar pentru serviciile de Internet fix cu viteză maximă disponibilă la adresa clientului, de până la 1000 Mbps.
"Noul model de business are la bază experiența clientului, care în ultimii ani a remodelat gândirea și strategia companiilor. Noul Client vrea conținut diversificat, pe care să îl acceseze oriunde și oricând, pe multiple ecrane și oferte ușor de înțeles. Clienții de astăzi vor să aibă încredere în brand-urile cu care colaborează, iar Telekom, prin intermediul noii strategii de business, încearcă să recalibreze relația client-companie, pe piața din România. Astăzi venim cu Oferta ca în Filme și oferim 6 luni Netflix cadou pentru a răspunde așteptărilor clienților pentru conținut diversificat. În plus, le oferim telefoane de ultimă generație și, în continuare, Internet 4G Nelimitat la viteze maxime", a declarat Andreas Elsner, Director Executiv Comercial, Segment Rezidenţial, Telekom Romania.
De acum, clienții Telekom vor putea urmări timp de șase luni filmele și serialele preferate din oferta Netflix precum House of Cards, Narcos, The Christmas Chronicles, Casa de Papel, The Crown sau Stranger Things, ca parte a ofertei cadou.
Aplicația Netflix poate fi instalată pe un număr cât mai mare de dispozitive, permițând clienților să se bucure de filme nelimitate, oriunde și oricând.
În cadrul ofertei de iarnă, clienții prepaid se vor bucura în continuare de bonus 4G Net Nelimitat la cartelă și, în plus, vor putea câștiga, în cadrul unei tombole, un Samsung Galaxy Note8, pe zi. În total, vor fi oferite 88 smartphone-uri Samsung Galaxy Note8. La tombolă pot participa clienții care pe durata campaniei activează sau reîncarcă cartela Telekom cu minim 5 euro credit și trimit SMS gratuit la 881.
Ofertele din campania de iarnă sunt disponibile în perioada 26 noiembrie 2018 – 31 ianuarie 2019.
Mai multe detalii pot fi regăsite accesând: www.telekom.ro.