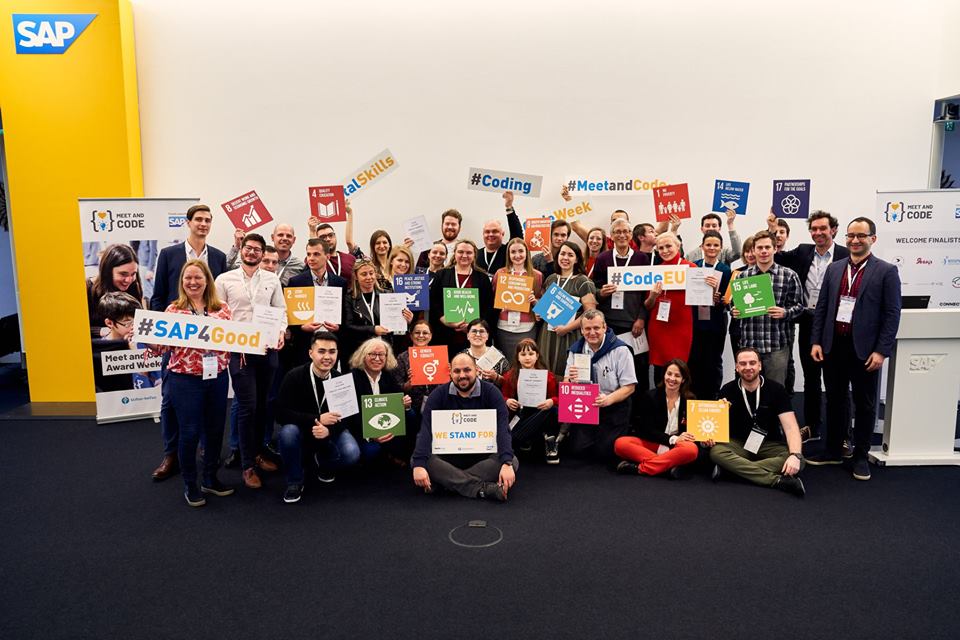 În acest sfârșit de săptămână, în cadrul ceremoniei de desemnare a câștigătorilor Competiției Meet and Code 2018 organizată în Germania, Asociația Pro Teodor Murășanu din Turda a câștigat premiul I (și suma de 2.500 de EURO) la categoria Kick and Code cu evenimentul finalist "Scratch și… Gool!".  
Categoria Kick and Code a vizat evenimente care și-au propus să ajute la rezolvarea unor probleme din fotbal cu soluții IT sau să folosească fotbalul pentru a atrage elevii și astfel să îi aducă mai aproape de lumea programării și a tehnologiei.
Din toate cele 1.100 evenimente de programare și tehnologie finanțate în 2018 prin inițiativa Meet and Code în cele 22 de țări participante, 132 au ajuns în etapa a doua de jurizare în cadrul competiției. Doar 15 au fost desemnate finaliste, câștigând astfel 3 zile de ateliere dedicate (despre Project Management, Design Thinking, Competențe Media și SNAP!) la sediul companiei SAP din Walldorf – Germania, iar 3 dintre ele au câștigat locul I la categoriile Innovation, Diversity și Kick and Code. 
La categoria Innovation, premiul I a fost acordat evenimentului "Build our own 3D Printer" organizat de The Globe Community Library at Stokesley și la categoria Diversity, câștigător a fost "Master class «Profession of a programmer – a step into the future»" al Charitable Foundation "VETERAN". 
Toată inițiativa Meet and Code 2018 în mai multe cifre, aici: https://www.meet-and-code.org/ro/ro/    
Evenimentul "Scratch și… Gool!" organizat la Școala Gimnazială ,,Teodor Murășanu" Turda de Asociația Pro Teodor Murășanu în colaborare cu Clubul Copiilor a fost desemnat în ianuarie finalist la categoria Kick and Code. 
"Premiul I la categoria Kick and Code reprezintă o recunoaștere importantă, la nivel internațional, a valorii echipei noastre, fapt care ne dă curaj și încredere să mergem mai departe pe drumul deschis de inițiatorii Meet and Code. În urma acestui rezultat fabulos am conștientizat, profesori și elevi, că putem realiza activități care să aducă fonduri importante școlii și să facă astfel procesul educativ mai atractiv, mai motivant. Sper ca pe viitor România să participe cu și mai multe proiecte, iar organizațiile care sprijină educația să se implice în număr și mai mare." – prof. înv. primar drd. Gabriela Ileana Crișan, coordonatorul evenimentului "Scratch și… Gool!"
"Această recunoaștere la nivel european îmi reînflăcărează pasiunea pentru munca cu copiii, dar în același timp, mi-a deschis o nouă perspectivă, mai largă, mai pătrunzătoare asupra posibilităților care se deschid în acest domeniu și sper că voi putea în continuare să mă implic într-o măsură mai amplă în astfel de acțiuni." – domnul Bukos Istvan, coordonatorul Cercului de Informatică, Clubul Copiilor Turda
Activitățile din cadrul evenimentului au provocat 21 de elevi cu vârsta între 9 și 11 ani să joace fotbal prin reguli create chiar în limbajul de programare vizuală Scratch.
Început la Clubul Copiilor din Turda și sfârșit pe terenul de fotbal al școlii, evenimentul a fost susținut de studenți, părinți, precum și de echipa națională de handbal Potaissa Turda. 
"Orice instituție școlară are obiective foarte clare și bine definite în vederea menținerii și ridicării standardelor în toate aspectele didactice. Astfel, și instituția noastră și-a propus valorificarea potențialului creativ al propriilor elevi atât în activitățile școlare, cat și în cele extrașcolare. Rezultatele pozitive obținute ne confirmă munca asiduă depusă de profesori-elevi și ne motivează pentru viitor. Felicitări tuturor!" – director Școala Gimnazială Teodor Murășanu, Gianina Silvia Matei