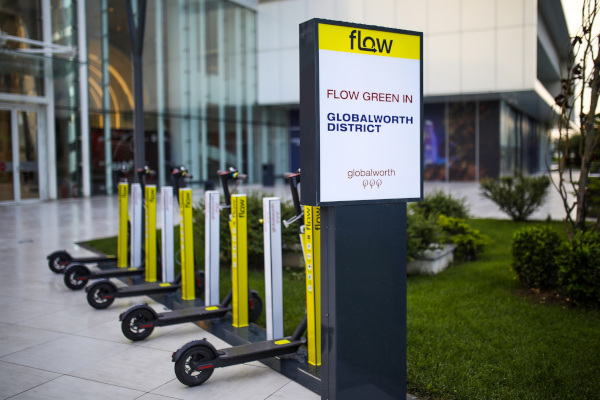 Angajații din clădirile Globalworth din București au o nouă variantă de transport eco: trotinetele electrice, printr-un parteneriat încheiat cu FLOW, o companie românească ce oferă acest tip de servicii de ridesharing. Fiecare clădire va beneficia și de stații de încărcare pentru trotinete, iar primele au fost deja instalate la cele doua intrări ale Globalworth Tower, din zona de nord a Bucureștiului.
"Începând cu etapa de design până la facilitatile pe care alegem să le aducem în clădirile noastre, ne concentrăm foarte mult pe componenta 'verde'. La baza business-ului nostru a stat întotdeauna dorința de a crea un mediu și o lume mai bună, atât printr-o îmbunătățire constantă a modului în care dezvoltăm clădirile, precum și prin parteneriatele pe care le derulăm. Alături de FLOW, ne bucurăm să oferim celor din comunitatea Globalworth un acces facil la această nouă și populară variantă de transport eco, respectiv trotinetele electrice. Prin acest parteneriat vom instala în fiecare clădire stații de încărcare, iar cei de la FLOW se vor asigura că vor exista mereu trotinete disponibile în aceste puncte", a declarat Georgiana Oltenescu, Head of Marketing and Communication la Globalworth.
"În zilele cu trafic obișnuit, parcurgi cu mașină distanța de la x la y în aproape x minute, asta dacă ai noroc și nu prinzi vreo intersecție blocată. Am conectat rutele și am instalat dock-uri FLOW, de unde se pot închiria trotinetele electrice. Distanța dintr-un punct în altul se parcurge în mai puțin de x minute, deci salvăm timp. Dacă nici nu plouă, putem consideră că e plimbare de relaxare. La destinație, trotineta se parchează la dock, călătoria se înregistrează automat în aplicație, e simplu. Cu cât mai multi oameni vor avea experiențe plăcute cu trotinetele FLOW prin București, cu atât mai repede vor fi dispuși să înlocuiască mașina personală cu metode alternative de deplasare prin oraș", a adăugat Bogdan Enoiu, FLOW Father.