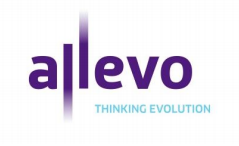 Allevo a fost declarată "Câștigător Național",  pentru România, la categoria Premiul pentru Inovație, pentru companii cu o cifră de afaceri între 0 și 25 milioane de euro, în cadrul European Business Awards, una dintre cele mai mari competiții de business din lume.
Astfel, Allevo este una dintre cele 8 companii din țara noastră, declarate "Câștigător Național." Compania a fost selectată din 39 de afaceri 'Ones to Watch', din România, și va participa la gala europeană a premiilor care va avea loc pe 3 și 4 decembrie, în Varșovia, Polonia.
"Acum cinci ani am decis să îmbrățișăm un model nou de business și să lansăm o nouă strategie. Am pariat pe open source și am spart gheața oferind software open source. Un proiect în care am crezut cu tărie, nou și inovativ pentru clienții noștri și pentru piață. Pe măsură ce tot mai multe bănci își deschid business-ul, soluția noastră își dovedește, o data în plus, beneficiile și ne validează viziunea ", a spus Ioana Guiman, Business Development Manager Allevo.
Allevo a ajuns în etapa finală a competiției alături de companii din toată Europa și a fost selectată din peste 2.700 de afaceri care au fost numite 'Ones to Watch', dintr-o listă de excelență în business publicată în luna iulie, fiind selectată ca și Câștigător Național, de către un juriu format din 50 de jurați independenți, inclusiv leaderi în business, politicieni și academicieni.
Prestigioasa competiție europeană de excelență în business, European Business Awards se află acum la cea de-a 12 ediție, și principalul ei scop, este să susțină dezvoltarea unei comunități de business mult mai puternică și de succes în Europa. Anul acesta au fost înscrise în competiție 120.000 de afaceri, din peste 33 de țări.
Produsul open source al Allevo, FinTP, se adresează segmentului de servicii financiare, un mediu tradițional, cu reglementări stricte. Allevo și-a redefinit strategia de business în 2017, an în care a accesat și fonduri europene pentru dezvoltarea unei extensii a FinTP pentru companii, ce va fi lansată pe piață în 2020, sub numele de FinOps Suite.
Proiectul cofinanțat din Fondul European de Dezvoltare Regională prin POC 2014-2020 mai prevede și dezvoltarea unei unelte de testare automată, a uneia de benchmarking, precum și reproiectarea portalurilor www.allevo.ro și www.fintp.org, cel din urmă fiind esențial în consolidarea comunității open source înființate de Allevo, FINkers United.