Pentru a opta oară consecutiv AHK România organizează standul comun al României la Expo Real München, cel mai mare târg din Europa pentru proiecte imobiliare și investiții. Târgul, aflat anul acesta la a 22-a ediţie, reprezintă pentru co-expozanţii noştri o oportunitate excelentă de a întâlni şi interacţiona cu peste 45.000 de participanţi din 72 de ţări, fiind un pandant al networking-ului internaţional, al proiectelor de anvergură, al investiţiilor şi finanţărilor transfrontaliere. Aici se reunesc toate verigile lanţului de valori din domeniu –  de la dezvoltatori de proiecte, investitori şi finanțatori, la regiuni economice şi oraşe – transformând expoziţia într-un eveniment unic pe piaţa internaţională.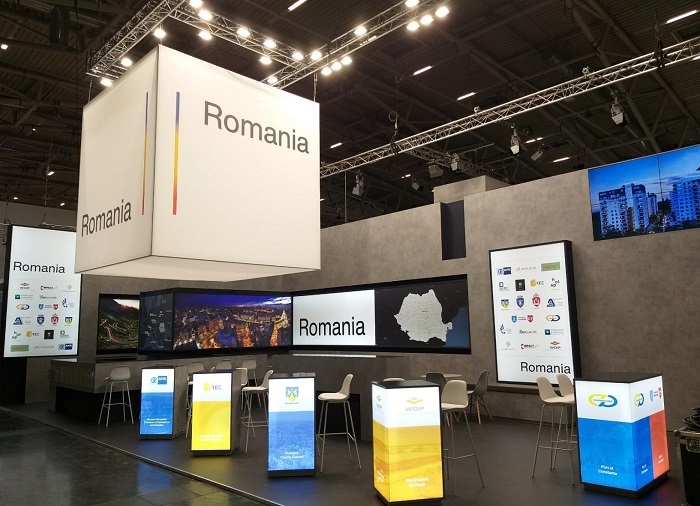 Din cele trei standuri ale României cu coordonatele A1.234, A1.241 și A1.242 fac parte următorii reprezentanți ai autorităților locale care sunt în căutare de investitori interesaţi de amplasamente la noi în ţară: Consiliul Județean Ilfov (stand A1.241), Sectorul 5 București (stand A1.242), Consiliul Județean Suceava, Municipiul Brașov, Municipiul Iași, Municipiul și Portul Constanța și Agenția pentru Dezvoltare Regională Centru (stand A1.234).
Coexpozanţii din mediul economic privat, având ca activități de bază dezvoltarea de proiecte comerciale, rezidențiale, de parcuri industriale, servicii logistice integrate, respectiv construcții civile și industriale și consultanță juridică, sunt: AFI Europe, Alma Consulting, Danina Star, Element Industrial, Estoria City, Geiger Romania, Impact Developer & Contractor, Lion's Head Investments, REC Partners, Stratulat Albulescu și WDP România (stand A1.234).
La fel ca în anii trecuţi, România va fi prezentă în programul târgului de conferinţe de specialitate, ce reuneşte peste 400 de experţi, cu conferinţa "România în prim-plan. Oportunități de piață: revizuire și tendințe care conturează piața proprietăților industriale și comerciale", dedicată promovării avantajelor competitive ale României. Aceasta va avea loc în data de 7 octombrie, ora 17:00, în zona Discussion & Networking Forum, hala A1. Vorbitorii invitaţi sunt: Dana Bordei, Commercial Manager WDP Development România; Lori Collin, Director România Lion's Head Management; Michael Heller, Lead Analyst for Real Estate Research; Bernd Himmler, Head of Property Portfolio Manager CEE & Head of Project Development S IMMO şi moderatorul, Andreas Schiller, redactor șef al SPH Newsletter şi Schiller Publishing House.
"Încă o dată vedem o ușoară creștere a numărului de expozanți și astfel vom obține o nouă participare record. Numărul de preînregistrări ale vizitatorilor este de asemenea în creștere", spune Klaus Dittrich, președinte și CEO al Messe München. Barometrul de opinie al EXPO REAL, un sondaj la care au participat 1.880 de profesioniști din sectorul imobiliar, prezintă o imagine în concordanță cu aceasta: "79 procente dintre respondenți se așteaptă la un rezultat bun pentru companiile lor în 2019, 14 la sută chiar anticipează un an record", subliniază Dittrich.