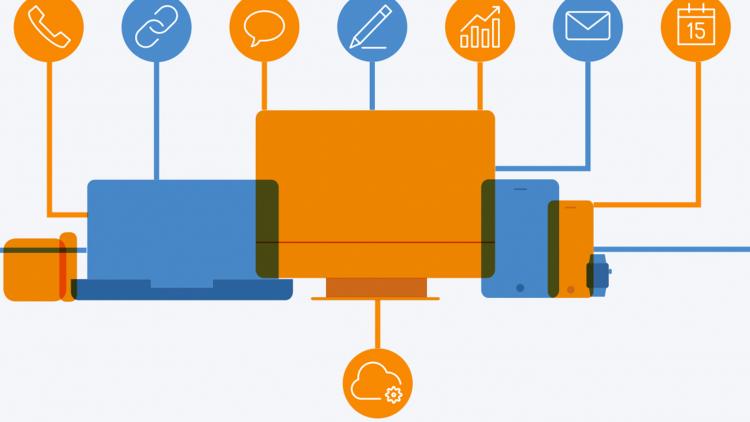 Încă de la apariția computerelor client-server în anii 1980, au existat nevoi ca echipele IT să gestioneze dispozitivele utilizatorilor (unified endpoint management – UEM).  La începuturi, acestea erau aproape toate computerele personale desktop în locații fixe care rulează Microsoft Windows. Sarcina a început să devină mult mai complicată odată cu apariția notebook-urilor și accesul facil la internet la distanță după 1990, și apoi cu sosirea de dispozitive mobile inteligente în ultimele decenii, inclusiv dispozitive portabile.
A existat, de asemenea, o explozie de dispozitive non-utilizator, cu lansarea de aplicații IoT; senzori, sonde, camere de luat vederi și așa mai departe. Și, desigur, dispozitivele tradiționale, cum ar fi serverele de fișiere și imprimantele, nu au dispărut. Problemele de volum asociate cu gestionarea punctelor finale sunt exacerbate de capacitatea de virtualizare a multor dispozitive în care locația lor fizică nu contează.
Pentru utilizatori, diversitatea înseamnă flexibilitate: aceleași aplicații și date ar putea fi accesate de pe orice dispozitiv, de oriunde. Pentru echipele IT, viața a devenit mai complicată: mai multe dispozitive, software de operare diversificat, amenințări sporite de securitate și, pentru a depăși toate acestea, multiple instrumente de management. Ceea ce aveau nevoie era o singură consolă pentru a gestiona toate obiectivele.
Majoritatea furnizorilor care pretind că oferă UEM provin din zonele pre-existente client management tools (CMT), endpoint security sau mobile device management. Nici una dintre ofertele principale nu a fost concepută de la zero ca UEM. Majoritatea furnizorilor livrează UEM ca software on-premise, bazat pe cloud sau un amestec hibrid dintre cele două. Modul în care se face acest lucru este variat și furnizorii diferiți vor fi mai puternici într-un mecanism de livrare sau altul, în funcție de fundalul acestora. Direcția de deplasare este de la premisă la cloud, deși anumite sectoare, cum ar fi serviciile financiare, preferă să păstreze lucrurile in-house. Cei care au un background CMT includ Microsoft, care oferă acum UEM eterogen prin intermediul System Center Configuration Manager ConfigMgr și Microsoft Enterprise Mobility and Security (EMS), care include serviciul Cloud Intune. Citrix oferă consola XenMobile pentru UEM, iar în 2017 a anunțat un parteneriat cu Microsoft care vizează clienții Intune.
Un dezvoltator UEM pentru întreprinderi mai mici, Kaseya, a anunțat RMM 2.0 (Remote Monitoring and Management), care integrează software-ul de management al punctelor finale VSA și software-ul de monitorizare a rețelei Traverse. Kaseya a fost întotdeauna puternică în ceea ce privește sprijinirea întreprinderilor și furnizorilor de servicii gestionate, acestea din urmă oferind UEM la dispoziția întreprinderilor mai mici.
Poate că acum este un moment bun pentru a examina gestionarea punctelor finale. Microsoft a încheiat actualizarea pentru Windows 7 pe 13 ianuarie 2015, iar suportul extins se va încheia la 14 ianuarie 2020. Aceasta va însemna o actualizare majoră a punctelor finale ale utilizatorilor pentru multe organizații care nu au trecut încă la Windows 10. Pericolul de a rămâne pe versiunile mai vechi au fost bine demonstrate de focarul malware WannaCry 2017.
Cu toate acestea, acest lucru nu poate fi un motiv obligatoriu pentru a actualiza Windows în sine. Poate este, de asemenea, o șansă de a revizui utilizarea generală a punctelor finale ale utilizatorilor și modul în care sunt gestionate toate acestea. Organizațiile care dispun de un sistem UEM vor fi mai bine poziționate pentru a oferi utilizatorilor posibilitatea de a alege, dar și de a aborda securitatea tuturor obiectivelor finale și a costului gestionării proprietăților IT tot mai mari.