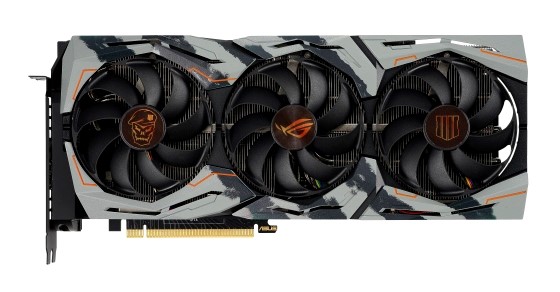 ASUS Republic of Gamers (ROG) a lansat placa video ROG Strix GeForce RTX 2080 Ti OC Call of Duty: Black Ops 4 Edition. Această ediție va fi disponibilă în cantități limitate, fiind restricționată la doar 500 de unități disponibile numai în anumite zone geografice (inclusiv în România). Decorate cu insigna Call of Duty: Black Ops 4 Edition, plăcile împerechează nuclee NVIDIA din lista A cu performanțe de vârf și o răcire extremă. Acestea au frecvențe de până la 1665MHz, performanțele rămânând constante în timpul acțiunilor intensive.
Răcire cu noile ventilatoare Axial-tech
ROG Strix GeForce RTX 2080 Ti OC Call of Duty: Black Ops 4 Edition menține rece GPU-ul Turing prin adoptarea unui design extins pe 2,7 sloturi. Cea mai mare parte a spațiului disponibil îi este dedicat unui radiator mare, ce are o suprafață cu 20% mai mare comparativ cu generația anterioară de plăci video. Ansamblul masiv de lamele fine permite operarea în modul pasiv în timpul jocurilor simple, iar atunci când este necesară răcirea activă, aceasta e furnizată prin trei ventilatoare axiale, certificate IP5X, dezvoltate special în acest scop. Având un butuc mai mic și lamele mai lungi, înconjurate de câte un inel exterior pentru a crește integritatea structurală și presiunea statică, noile ventilatoare generează un flux de aer superior cu un zgomot diminuat.
VRM cu 16 faze
Din moment ce frecvența de ceas a plăcii este suficientă pentru a genera rate de cadre ridicate la rezoluții extreme, jucătorii vor dori să stoarcă până și ultima picătură de performanță de la arhitectura Turing. Armată cu bobine Super Alloy, condensatori din polimeri solizi și cu o matrice cu 16 etaje de alimentare, ROG Strix GeForce RTX 2080 Ti OC Call of Duty: Black Ops 4 Edition a fost concepută să împingă la limite nucleul grafic.
Tehnologia Auto-Extreme
Toate plăcile grafice ROG Strix sunt produse prin utilizarea tehnologiei Auto-Extreme, un proces automat de fabricație ce stabilește noi standarde în industrie prin executarea lipiturilor într-un singur pas. Acesta reduce stresul termic asupra componentelor, reduce consumul de energie în procesul de fabricație și îmbunătățește fiabilitatea generală.
Integrare Aura Sync
ROG a colaborat cu Activision în cazul jocului Call of Duty: Black Ops 4 pentru ca efectele din joc să fie exprimate prin sistemul de iluminat Aura. Logoul din partea din spate a plăcii grafice pulsează sincronizat cu cronometrarea rundelor și își schimbă culoarea atunci când personajul este sub apă sau când jocul trece în modul Blackout. Software-ul Aura Sync permite ca iluminarea să fie coordonată cu alte elemente hardware inspirate de ROG Call of Duty: Black Ops 4 și accesorii compatibile Aura, astfel că efectele de imersie pot fi transmise de sistem în tot desktopul.
Disponibilitate
Placa video ROG Strix GeForce RTX 2080 Ti OC Call of Duty: Black Ops 4 Edition va fi disponibilă în România la finalul lunii decembrie 2018, prin intermediul magazinelor partenere.