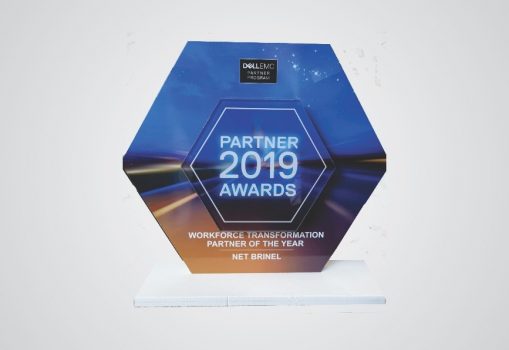 BRINEL a primit distincția "Workforce Transformation Partner of the year", în cadrul ceremoniei de anul acesta a Dell EMC Partner Awards, desfășurată în 11 Aprilie, în prezența a peste 120 de persoane, la București.
Premiul "Workforce Transformation Partner of the Year" vine ca o recunoaștere a profesionalismului echipei BRINEL de a-și ajuta clienții să facă față transformărilor induse de avansul foarte rapid al tehnologiei. În calitate de partener Titanium Dell Technologies, BRINEL deține competențele și experiența necesare pentru a proiecta și implementa cu succes un portofoliu consistent de soluții, de la echipamente si instrumente mobile până la servicii de management a infrastructurii complexe, concepute pentru a se adapta la forța de muncă aflată în continuu proces de transformare.
Juriul a apreciat partenerii care au obținut cele mai bune rezultate de vânzări pentru anumite grupe de produse și segmente de piață, dar și cea mai rapidă creștere a rezultatelor și o eficiență ridicată a operațiunilor. BRINEL s-a aflat pe lista premianților la fiecare dintre edițiile de până acum.
Brinel investește continuu în competențele resurselor umane, având în momentul de față certificări active care acoperă un domeniu larg din portofoliul Dell Technologies.