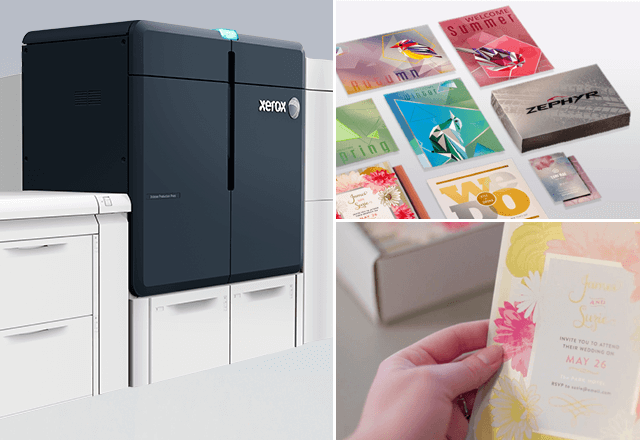 Tehnologiile Xerox pentru tiparul de producție sunt cunoscute în întreaga lume pentru oportunitățile pe care le aduc furnizorilor de servicii de imprimare. Astfel, nu e o surpriză faptul că presa Xerox Iridesse™ și ediția Circle PersonalEffect® a soluției XMPie au fost premiate în cadrul InterTech™ Technology Awards.
Aceste premii – gestionate de cea mai mare asociație de artă grafică din Statele Unite, Printing Industries of America (PIA) – oferă distincții acelor tehnologii care au transformat peisajul comunicării grafice. "Avem în vizor produsele și soluțiile software care sunt cu adevărat inovatoare și care pot aduce noi oportunități companiilor din industrie," afirmă Jim Workman, vicepreședinte, Center for Technology and Research, PIA.
Presa Iridesse are la dispoziție un set extins de cerneluri în culori metalice și poate produce efecte speciale care vor scoate din anonimat proiectele dumneavoastră de imprimare. De asemenea, soluția Circle pune la dispoziția utilizatorilor tehnologia de care au nevoie pentru a deveni un business de success pe segmentul furnizorilor de servicii grafice pe mai multe canale.
"Pentru clienții noștri, Iridesse și tehnologia XMPie sunt instrumente foarte puternice de business care îi ajută pe aceștia să ducă aplicațiile și campaniile de marketing la nivelul următor," spune Andrew Copley, președinte, Graphic Communications Solutions, Xerox. "În contextul creșterii cererii pentru efecte speciale de imprimare și soluții de marketing automatizate, end-to-end și pe mai multe canale, tehnologia noastră le va permite clienților să fie cu un pas în fața concurenței."
Iridesse este singura presă digitală cu șase stații de imprimare care combină imprimarea în patru culori cu două cerneluri speciale (pe auriu, argintiu sau toner transparent) – dintr-o singură trecere. Presa produce cu ușurință materiale strălucitoare în format CMYK, în culori metalice sau cu efecte speciale irizate.
Circle este singura soluție de comunicare pe mai multe canale care combină conținutul personalizat și fluxurile de lucru de marketing automatizate. Software-ul de automatizare deosebit de eficient include toate etapele realizării unei campanii de marketing, de la dezvoltare și creare, până la implementare și monitorizare a performanței. Circle le permite furnizorilor de servicii de imprimare să se conecteze la alte platforme, precum Salesforce și Facebook, pentru a integra cu ușurință punctele de contact ale unei campanii digitale integrate.