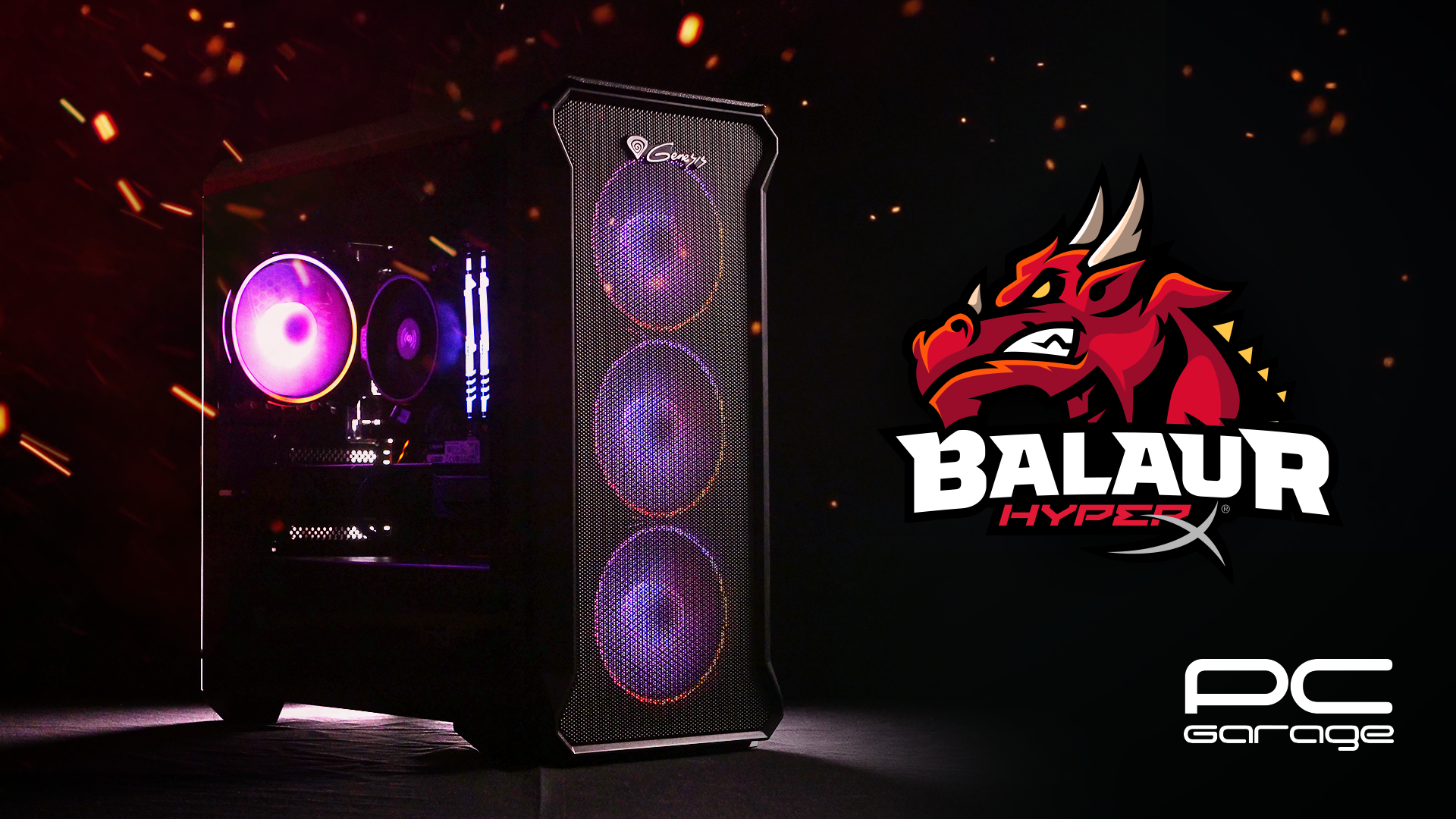 PC Garage, unul dintre cele mai mari magazine online de produse IT și electronice din România și în același timp un reper pentru toți cei pasionați de tehnologie, a lansat astăzi PC-ul pentru jocuri "Balaur by HyperX", conceput pentru a oferi pasionaților de jocuri rezultate optime în cele mai în vogă titluri ale momentului.
Încă de la lansarea sa pe piață, PC Garage și-a asumat misiunea de a oferi susținere pasionaților de jocuri din România, aceasta reprezentând în continuare principalul său țel. Așa au luat naștere, printre altele, Viking, Raptor5 și Arkay – PC-uri de gaming de succes configurate, construite și testate de PC Garage pentru clienții săi. Pe lângă raportul calitate/preț foarte bun oferit de acestea utilizatorilor, ele au avut ca efect și readucerea în zona de interes a sistemelor gata asamblate pe piața din România, semn că publicul consumator apreciază produsele de calitate, care corespund nevoilor sale.
PC Garage continuă seria lansărilor de acest fel prin introducerea lui "Balaur by HyperX" – un PC de gaming construit cu aceeași atenție la detalii bine cunoscută printre utilizatori. Conceput pentru o experiență în jocuri cu și de poveste, el este bazat pe o platformă AMD și este echipat cu procesor Ryzen 5 2600, prevăzut cu 6 nuclee tactate la o frecvență de până la 3.9GHz. Pe partea de procesare grafică vine echipat cu o placă video Radeon RX 5500 XT dotată cu 8GB memorie video și cu 16GB memorie RAM HyperX Fury cu frecvența de 3000MHz, al cărei aspect poate fi personalizat prin modificarea soluției de iluminare RGB (prin utilizarea aplicației HyperX NGENUITY).
Pentru performanțe optime și fluiditate, unitatea de stocare aleasă este un SSD Kingston A2000 în format M.2 pe interfață PCI Express 3.0 x4, cu capacitatea de stocare de 500GB și viteze de lucru de până la 2200MB/s la citire, respectiv 2000MB/s la scriere. Întregul ansamblu este montat într-o carcasă Genesis Irid 503 ARGB Micro, prevăzută cu panou lateral din sticlă securizată și 4 ventilatoare cu iluminare RGB. Pentru alimentarea cu energie, a fost aleasă o sursă de alimentare Super Flower de 450W, certificată 80+ Bronze.
Denumirea "Balaur" nu a fost aleasă nici ea la întâmplare, ea indicând superioritatea PC-ului în jocuri, unde acesta permite utilizatorului să elimine eficient toți "zmeii" de pe câmpul de luptă, oferindu-i FPS de poveste. Astfel, specialiştii noştrii au verificat nivelul de stres al balaurului în jocuri precum Tomb Rider(80 FPS), Counter Strike(293 FPS), The Witcher(78 FPS), The Division(75 FPS), GTA(96 FPS) şi Fortnite(157 FPS).
Prețul de achiziție este și el unul cât se poate de atractiv, modelul fiind disponibil în oferta PC Garage pentru numai 3.699 Lei. Mai multe detalii despre configurație, rezultate în teste și chiar un review video sunt disponibile pe pagina oficială a produsului.