Vodafone Irlanda a lansat o soluţie de scanare a temperaturii de la distanţă în timp real, denumită Vodafone Business Heat Detection. Camerele termice din locaţiile de scanare sunt conectate în reţeaua securizată Internet of Things (IoT) de la Vodafone, asigurând criptarea tuturor datelor de la un capăt la celălalt al fluxului de date.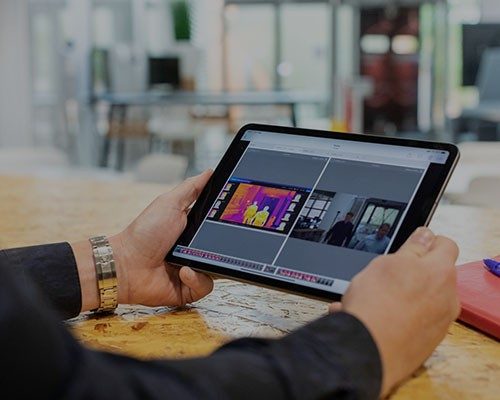 Proiectată ca un instrument de mare eficienţă pentru identificarea rapidă a personalului, clienţilor şi vizitatorilor dintr-o locaţie care prezintă simptome de temperatură crescută, soluţia Vodafone Heat Detection va sprijini redeschiderea unor spaţii distribuite precum clădirile comerciale, depozitele, centrele de distribuţie şi spitalele, pe măsură ce Irlanda se pregăteşte să iasă din faza de lockdown. Soluţia dispune de capabilităţi de acces ultra-securizat de la distanţă, permiţând ca monitorizarea să fie efectuată fără nevoia de contact uman apropiat sau de prezenţă fizică în locaţie. Soluţia a fost dezvoltată în parteneriat cu Digital Barriers, un jucător important pe piaţa globală a soluţiilor de tip edge inteligente destinate zonei de supraveghere şi securitate fizică.
Dotată cu cameră termică şi cameră optică HD, soluţia foloseşte o tehnologie care asigură detectări ale unor praguri minimale de temperaturi (+/- 0,3 grade Celsius) în timp real. Camera termică analizează temperatura corpului, un indicator cheie al prezenţei febrei, şi transmite o alarmă discretă atunci când se depăşeşte un prag de temperatură anterior stabilit. Sistemul poate scana până la 100 de oameni pe minut, cu un număr de până la opt oameni scanaţi simultan. Vodafone Irlanda oferă, de asemenea, un serviciu gestionat de la distanţă, care include supraveghere zonală, setare de sistem, instalare şi suport 24/7.
Paula Corcoran, Vodafone Business IOT Product Manager, a declarat: "Internet of Things începe deja să transforme modul în care firmele se vor redeschide şi vor opera după pandemie. În următoarele câteva luni, firmele vor dori să se asigure că pot reveni la producţia de bunuri şi servicii, în acelaşi timp asigurând starea de bine a angajaţilor, clienţilor şi vizitatorilor în sediile lor. Această soluţie IoT, complet gestionată, cu capabilităţi de streaming live şi nivel superior de securitate, va ajuta clienţii noştri să revină la norma cât de repede posibil."
Soluţia Vodafone Business Heat Detection poate fi instalată ca sistem de sine stătător sau ca parte a unei reţele, legată fiind de o locaţie centrală de comandă şi control.