HUAWEI lansează campania Festival of Apps, prin intermediul căreia utilizatorii Huawei AppGallery pot câștiga premii importante. Campania are loc în intervalul 24 iulie – 16 august și va fi realizată în 4 etape de concurs. Printre premiile care pot fi câștigate de cei care se înscriu se numără smartphone-uri Huawei P40 lite, tablete Huawei MatePad T8 Wi-Fi, căștile wireless Huawei FreeBuds 3i sau brățări de fitness Huawei Band 4, cât și vouchere cadou oferite de partenerii magazinului virtual.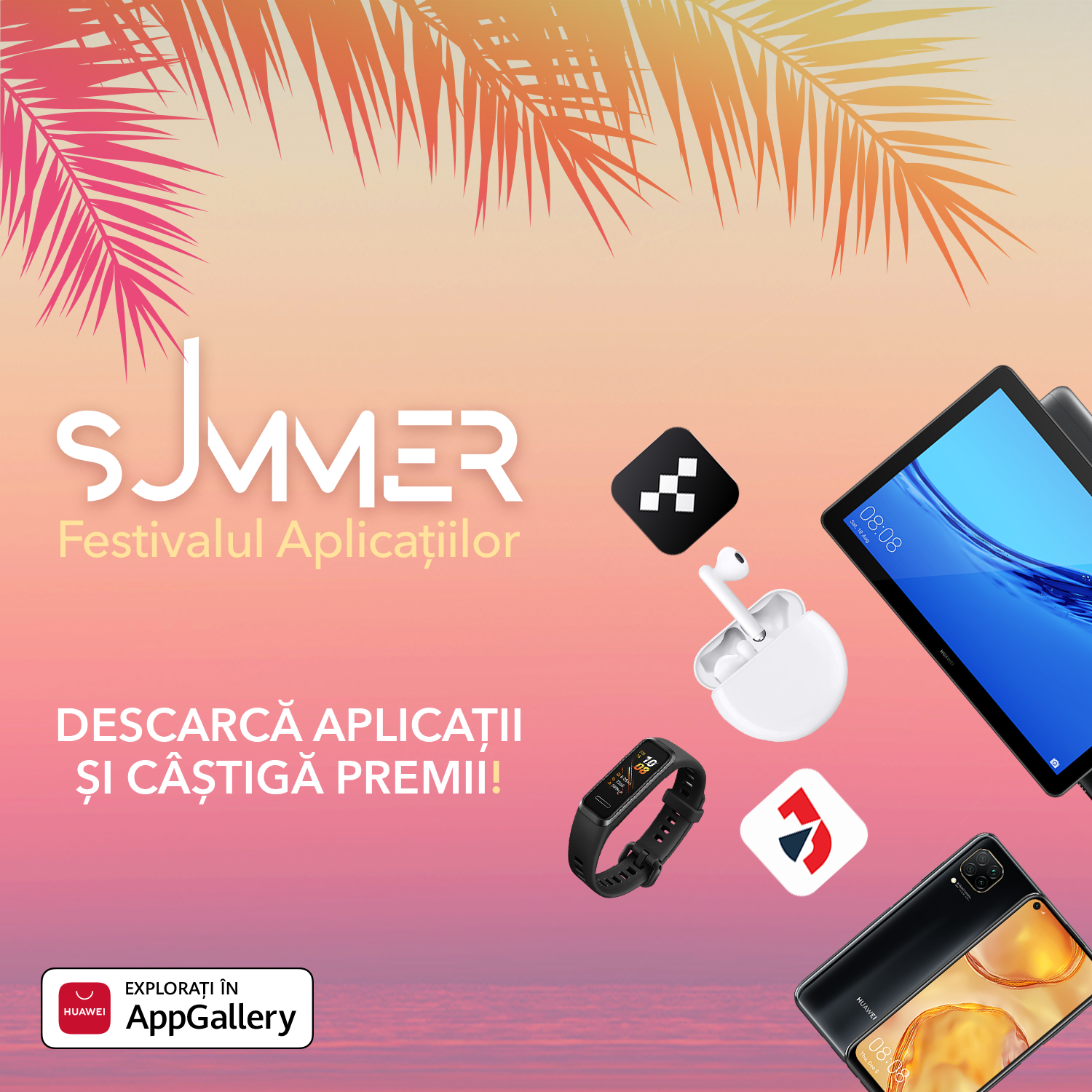 Campania este special concepută pentru a oferi o experiență cât mai plăcută utilizatorilor în momentul în care își personalizează smartphone-ul sau tableta HUAWEI cu aplicații utile din platformă.
"Ne bucurăm să anunțăm lansarea Festival of Apps, prima campanie dezvoltată de un magazin de aplicații, care oferă nu doar premii tip puncte sau vouchere, ci și premii fizice atractive din portofoliul HUAWEI a căror valoare totală depășește 140.000 EUR", spune Ciprian Mirea,  Director of Ecosystem & Head of Trade Marketing, Huawei Consumer Business Group. "Ne dorim să le oferim utilizatorilor o interacțiune cât mai plăcută cu serviciile și produsele noastre, de aceea lansăm periodic provocări și creăm oportunități speciale pentru iubitorii de produse HUAWEI. Sperăm ca prin acest nou proiect unic aceștia să se bucure de experiența interactivă și să participe în număr cât mai mare", continuă acesta.
4 etape de concurs, mii de premii atrăgătoare
Prima etapă a campaniei are loc între 24 iulie și 26 iulie, în timp ce a doua etapă se desfășoară între 31 iulie și 2 august.
În primele două etape, pentru a intra în concurs, utilizatorii trebuie să descarce gratuit una dintre cele 20 de aplicații prezente în Huawei AppGallery, printre care: Tidal, Jerry's Pizza, Star Taxi, MyEnel, Card Sodexo, Bizi Day, Learn 33 Languages Free – Mondly, Antenaplay.ro, Banca Transilvania, BT Pay, NeoBT (Beta), Regina Maria, Bringo Delivery, Digi Online, Yoxo: Abonamentul Digital, My Orange Romania, Orange Money, Huawei Browser, Bitdefender Antivirus Free sau Pago.
Cea de-a treia etapă a campaniei se desfășoară în perioada 7 august– 9 august, în timp ce cea de-a patra etapă, și ultima, are loc în perioada 14 august– 16 august. Și în aceste etape, mecanismul de concurs este același, selecția de aplicații care le poate aduce utilizatorilor Huawei AppGallery premii importante fiind următoarele: Tidal, Jerry's Pizza, George Romania, VirtualCards – Loyalty Cards & Coupons Wallet, E.on Myline, 7card, My Edenred Romania, My BRD Mobile, 24 Pay, Cinemagia, OLX.ro, Digi Romania, Știrile PRO TV, Saloanele Magic, Learn English Free, WorldClass Romania, MyAccount Telekom, Telekom TV, My Vodafone Romania sau Member Center.
Premiile în posesia cărora pot intra utilizatorii HUAWEI sunt următoarele:
• 40 de smartphone-uri Huawei P40 lite
• 60 de tablete Huawei MatePad T8 Wi-FI
• 80 de perechi de căști Huawei FreeBuds 3i
• 100 de brățări de fitness Huawei Band 4
• 1000 de vouchere Jerry's Pizza pentru a doua pizza comandată din aplicație
• 1000 de vouchere Tidal Hi-Fi, care oferă acces gratuit la muzică de cea mai bună calitate timp de 6 luni
Astfel, imediat după descărcarea uneia dintre aplicațiile menționate mai sus, utilizatorii trebuie să învârtă o roată a norocului, făcând clic pe butonul "Play", disponibil în platformă. Pentru fiecare descărcare a unei aplicații dintre cele valabile în campanie, fiecare utilizator are o singură șansă de a își testa norocul.
Pentru noutăți despre Huawei AppGallery, accesați:
Facebook: https://www.facebook.com/AppGalleryRo/
Instagram: https://www.instagram.com/appgalleryro/