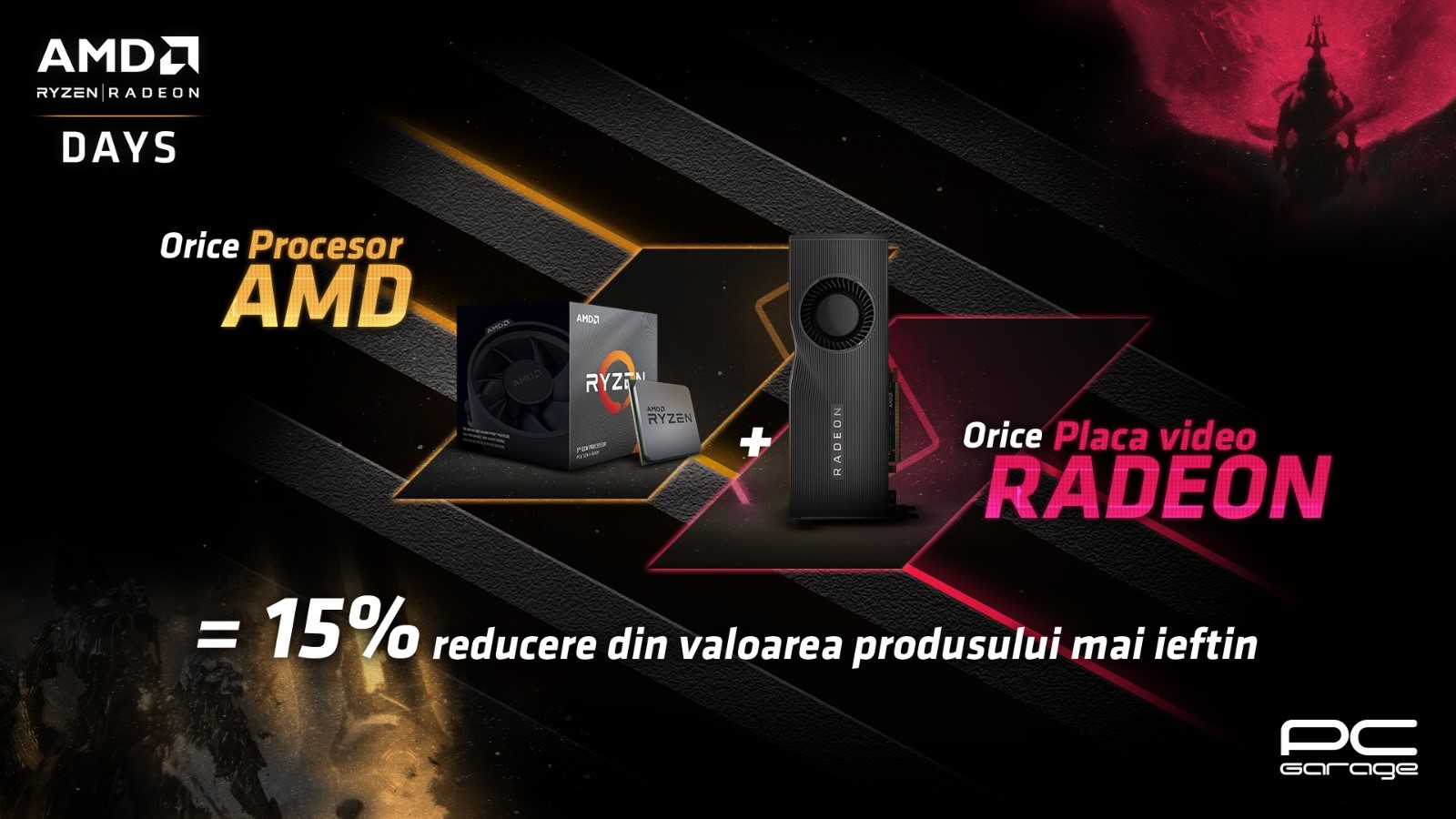 PC Garage, unul dintre cele mai mari magazine online de produse IT și electronice din România și în același timp un reper pentru toți cei pasionați de tehnologie, anunţă o nouă ediţie a campaniei AMD Days, o campania de succes prin care oferă reducere la pachetul orice procesor AMD + orice placă video Radeon.
Astfel, până pe 17 august 2020, cei ce vor cumpăra un procesor AMD şi o placă video Radeon, vor beneficia de 15% reducere la unul dintre acestea. Reducerea se aplică produsului cu valoare mai mică şi nu poate fi aplicată produselor din gama Business sau resigilate.
Oferta este una diversificată, cu produse destinate atât entuziaştilor, cât şi celor cu un buget mai redus. Astfel, pentru segmentul high-end, se poate opta pentru achiziţia unui procesor AMD Ryzen 9 3900X ce aduce ca bonus Assassin's Creed Valhalla şi a unei plăci video Radeon RX 5600 XT, ce oferă şi ea încă un bonus AMD Radeon Raise the Game Bundle. Pentru acestea două veţi beneficia de o extra reduce în valoare de 256 RON RON, dar si de un bonus în jocuri al cărui valoare depăşeşte 500 RON.
Cei cu un buget mai redus, pot opta pentru un duo extrem de fiabil, format din AMD Ryzen 5 3600 şi Radeon RX 5500 XT PULSE. Acestea împreună vor fi disponibile la un preț de 1.685 RON, după aplicarea reducerii de 15%. Şi aici veţi beneficia de bonusul Radeon Raise the Game Bundle, în valoare de 259,99 RON.
Mai multe informaţii despre campanie, precum şi lista completă a produselor disponibile în promoţie, gasiţi aici.
Citiți și:
PC Garage oferă cadou un SSD de 480GB sau o carcasă ARGB
PC Garage "scade temperatura" cu reduceri de 20%