HUAWEI anunță ultimele două săptămâni de disponibilitate pentru campania Festival of Apps, prin intermediul căreia utilizatorii Huawei AppGallery pot câștiga premii importante. Printre premiile care pot fi câștigate de cei care se înscriu se numără atât smartphone-uri Huawei P40 lite, tablete Huawei MatePad T8 Wi-Fi, căști wireless Huawei FreeBuds 3i sau brățări de fitness Huawei Band 4, cât și vouchere cadou oferite de parteneri ai magazinului virtual precum Jerry's Pizza sau Tidal. Campania a început pe 24 iulie și se va încheia pe 16 august.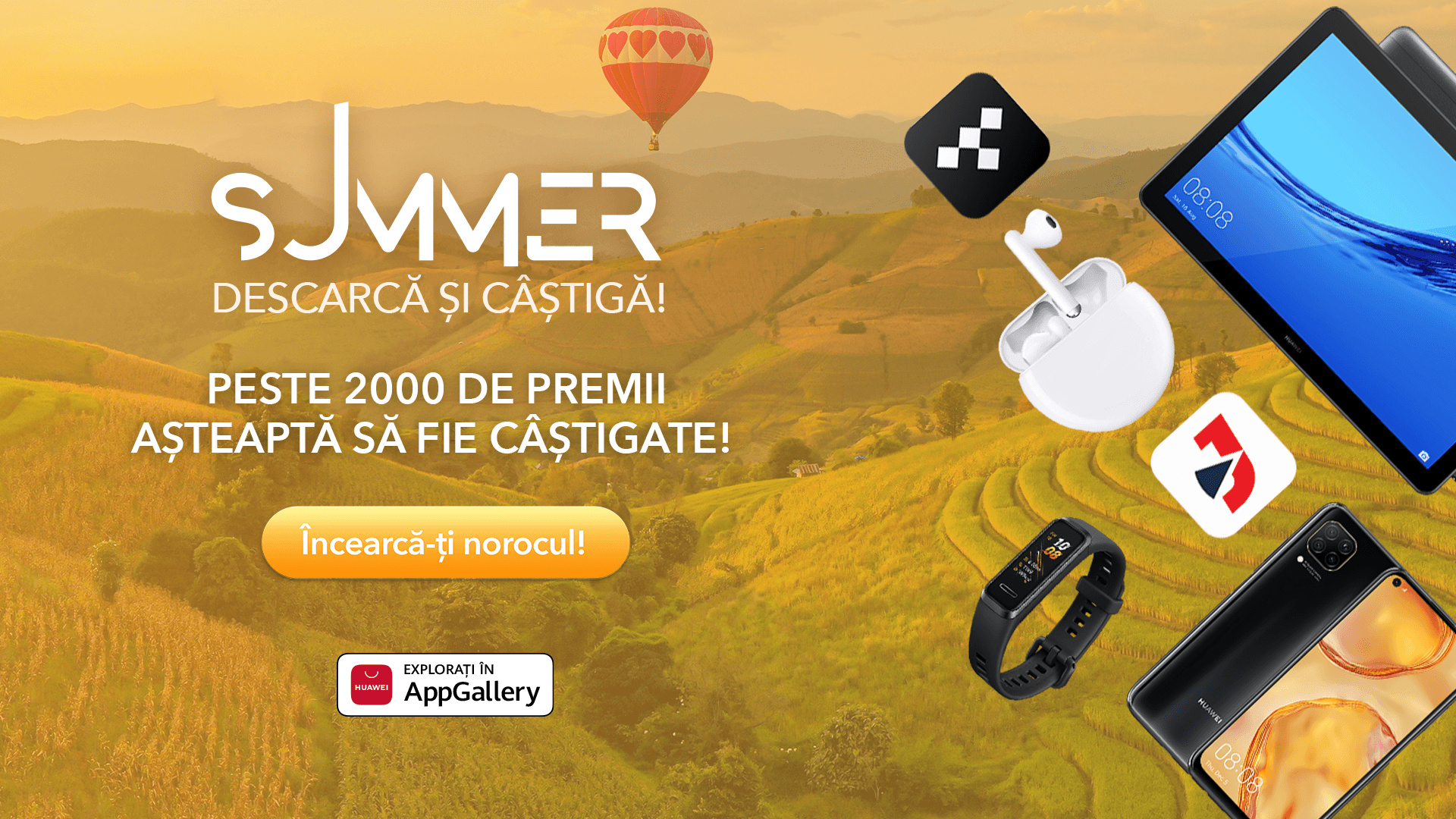 Festival of Apps este special concepută pentru a oferi o experiență plăcută utilizatorilor în momentul în care interacționează cu magazinul virtual de aplicații. În plus, premiile puse la dispoziția acestora sunt special gândite pentru a acoperi nevoi diverse, de la productivitate până la divertisment.
Mii de premii atrăgătoare în fiecare etapă de concurs
Cei care nu s-au înscris până acum în concursul disponibil în Huawei AppGallery încă mai au timp să o facă. Campania Festival of Apps continuă timp de încă două săptămâni, până pe data de 16 august, inclusiv, cu peste 2000 de dispozitive și vouchere care așteaptă să intre în posesia utilizatorilor.
Cea de-a treia etapă a campaniei se desfășoară în perioada 7 august– 9 august, în timp ce a patra etapă, și ultima, are loc în perioada 14 august – 16 august. Selecția de aplicații care le poate aduce utilizatorilor Huawei AppGallery premii importante poate fi regăsită în lista următoare: Tidal, Jerry's Pizza, George Romania, VirtualCards – Loyalty Cards & Coupons Wallet, E.on Myline, 7card, My Edenred Romania, My BRD Mobile, 24 Pay, Cinemagia, OLX.ro, Digi Romania, Știrile PRO TV, Saloanele Magic, Learn English Free, WorldClass Romania, MyAccount Telekom, Telekom TV, My Vodafone Romania sau Member Center.
Pentru a intra în posesia premiilor, imediat după descărcarea uneia dintre aplicațiile menționate în lista de mai sus, utilizatorii trebuie să învârtă o roată a norocului, făcând clic pe butonul "Play", disponibil în platformă.
Pentru mai multe informații despre Festival of Apps, accesați: https://bit.ly/3a2077P.
Pentru noutăți despre Huawei AppGallery, accesați:
Facebook: https://www.facebook.com/AppGalleryRo/
Instagram:https://www.instagram.com/appgalleryro/ https://www.instagram.com/appgalleryro/