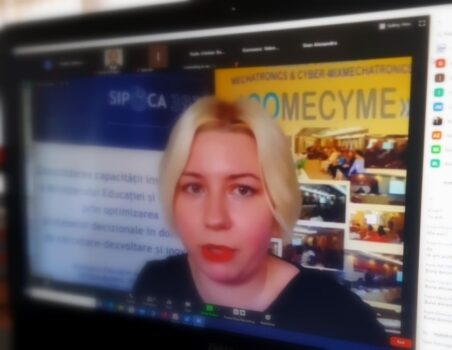 Pe 10 şi 11 septembrie 2020, Institutul Național de Cercetare-Dezvoltare pentru Mecatronică şi Tehnica Măsurării – INCDMTM  București – a organizat în formă online cea de-a patra ediție a Conferinței Internaționale ICOMECYME – International Conference of Mechatronics and Cyber-Mixmechatronics.
Conferința, care a reunit reprezentanți din Europa, America de Nord şi Asia şi mai bine de patruzeci de participanți din România, s-a concentrat pe teme din domeniul de mecatronică şi din cele conexe, precum: sisteme high-tech micro mecatronice şi nano mecatronice; robotică, modelare şi simulare; sisteme integrate de control inteligent; procesare de imagini şi imagistică pentru computer; sisteme biomedicale; comunicații şi sisteme inteligente distribuite; transferul tehnologic de produse mecatronice în industrie; senzori şi traductoare; inginerie de sistem; tehnica măsurării inteligente şi, bineînțeles, alte subiecte relaționate.
Lucrările de un înalt nivel științific prezentate în cadrul conferinței au făcut obiectul unui proces riguros de selecție în vederea publicării în Volumul Conferinței, realizat sub egida prestigioasei edituri elvețiene Springer, în seria Lecture Notes, iar cele mai bune lucrări fac obiectul evaluării de către Clarivate.