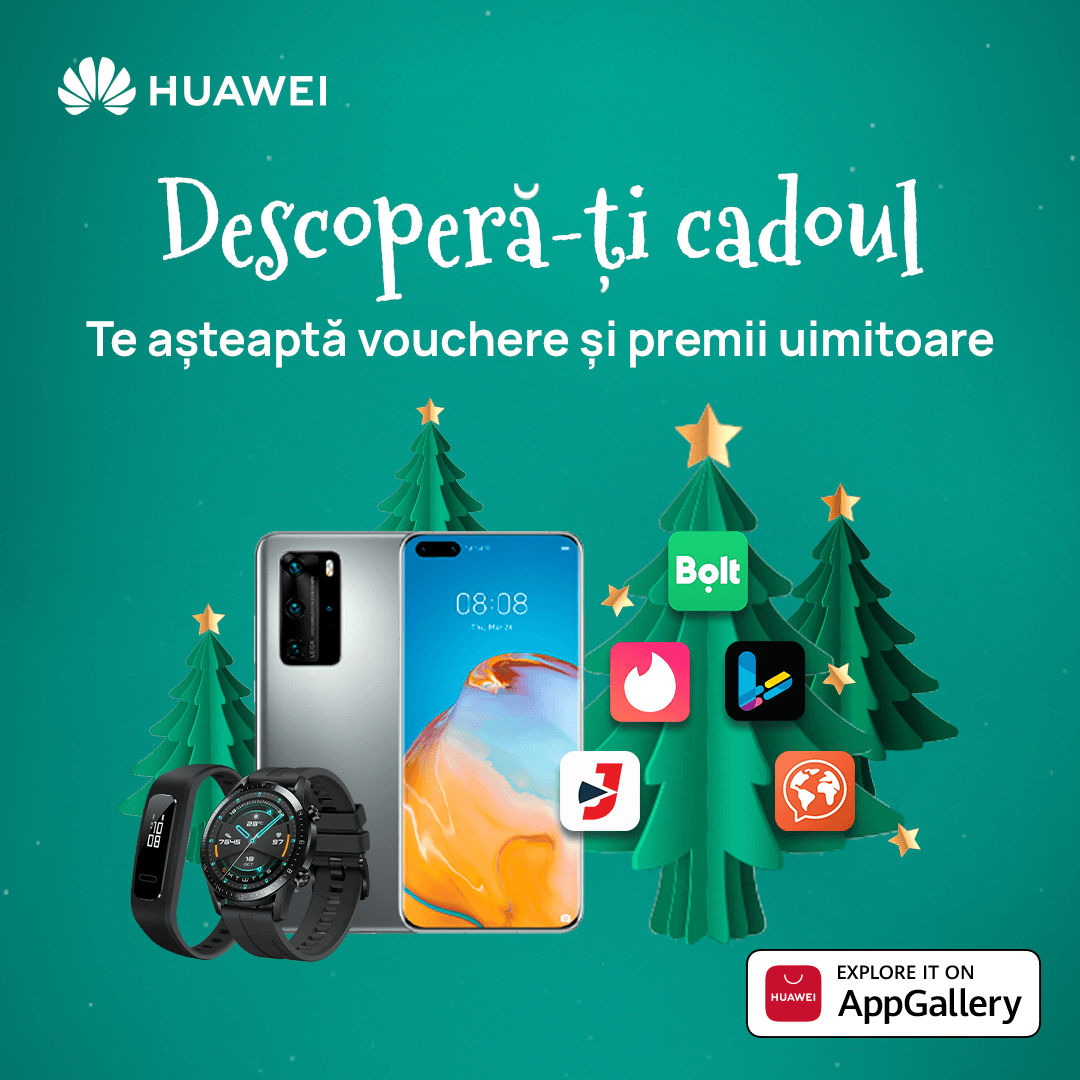 Huawei Consumer Business Group România anunță lansarea ediției de sărbători a campaniei Festival of Apps, defășurată în mai multe etape de concurs în acest an în magazinul virtual de aplicații HUAWEI AppGallery. Concursul Numărătoare inversă de Crăciun cu HUAWEI AppGallery are loc în intervalul 10 decembrie 2020 – 30 decembrie 2020 și vine cu premii atractive pentru toți utilizatorii de smartphone-uri cu Android.
Ediția specială a campaniei este disponibilă pentru toate smartphone-urile cu Android și echipate cu magazinul HUAWEI AppGallery. Acesta poate fi instalat pe toate dispozitivele Android accesând appgallery.huawei.com și folosind butonul de download AppGallery sau printr-un clic pe link-ul următor: https://appgallery.huawei.com/#/app/C27162.
Participanții au 3 șanse zilnice de câștig în perioada campaniei, iar premiile în posesia cărora pot intra sunt atât premii fizice, cât și premii digitale. Printre premiile fizice se numără dispozitive de ultimă oră din portofoliul Huawei. 5 smartphone-uri vârf de gamă HUAWEI P40 Pro, 10 smartwatch-uri HUAWEI WATCH GT 2 și 320 de brățări de fitness HUAWEI Band 3e sunt device-urile care vor intra în posesia celor mai norocoși dintre participanți în perioada sărbătorilor. Toate aceste dispozitive vin în întâmpinarea câștigătorilor cu tehnologii inovatoare și un design atractiv.
În același timp, premiile digitale puse la dispoziția utilizatorilor sunt vouchere oferite de parteneri importanți precum Jerry's Pizza, Bolt, Mondly, AntenaPlay și Tinder. Acestea pot fi folosite de către utilizatori pentru a intra în posesia unor beneficii importante în aplicațiile prezente în HUAWEI AppGallery. Mai multe detalii despre modalitatea în care câștigătorii pot beneficia de acestea sunt disponibile în regulamentul de campanie.
Cele 48 de aplicații care le aduc șanse de câștig participanților pot fi regăsite în lista următoare: Tinder, OLX.ro – Anunțuri gratuite, MyElectrica, Learn 33 Languages Free – Mondly, MyEdenred Romania, BOLT, TPARK, George România, My Vodafone România, Up Mobil, AntenaPlay, Jerry's Pizza, Sygic GPS Navigation & Maps, Digi România, Star Taxi, Dystopia, MyBRD Mobile, REGINA MARIA, Avast Cleanup&Boost, Phone Cleaner, Optimizer, Biziday, NeoBT, Okazii.ro, iTranslate Translator&Dictionary, Pago, CyberGhost VPN – Fast&Secure WiFi protection, Vodafone Shake, eSky, Lajumate.ro, Viber, Lidl – Offers & Leaflets, DEDEMAN, mobilPay Wallet RO, 24pay, eJobs.ro – Locuri de muncă, Joom: Shop low price deals, clothes offer&gifts, Retrica, About You, Beez, Windy.com – Wind, Waven and Hurricanes Forecast, SoundHound – Music Discovery&Lyrics, Știri din România, Opera with free VPN, Meme Generator Free, Guitar Tuna, Sleep Cycle, OfficeSuit, Moovit, Deezer.
Câștigătorii vor fi extrași prin tragere la sorți. Pentru mai multe informații despre campanie, vă invităm să accesați: http://bit.ly/389VSXq.