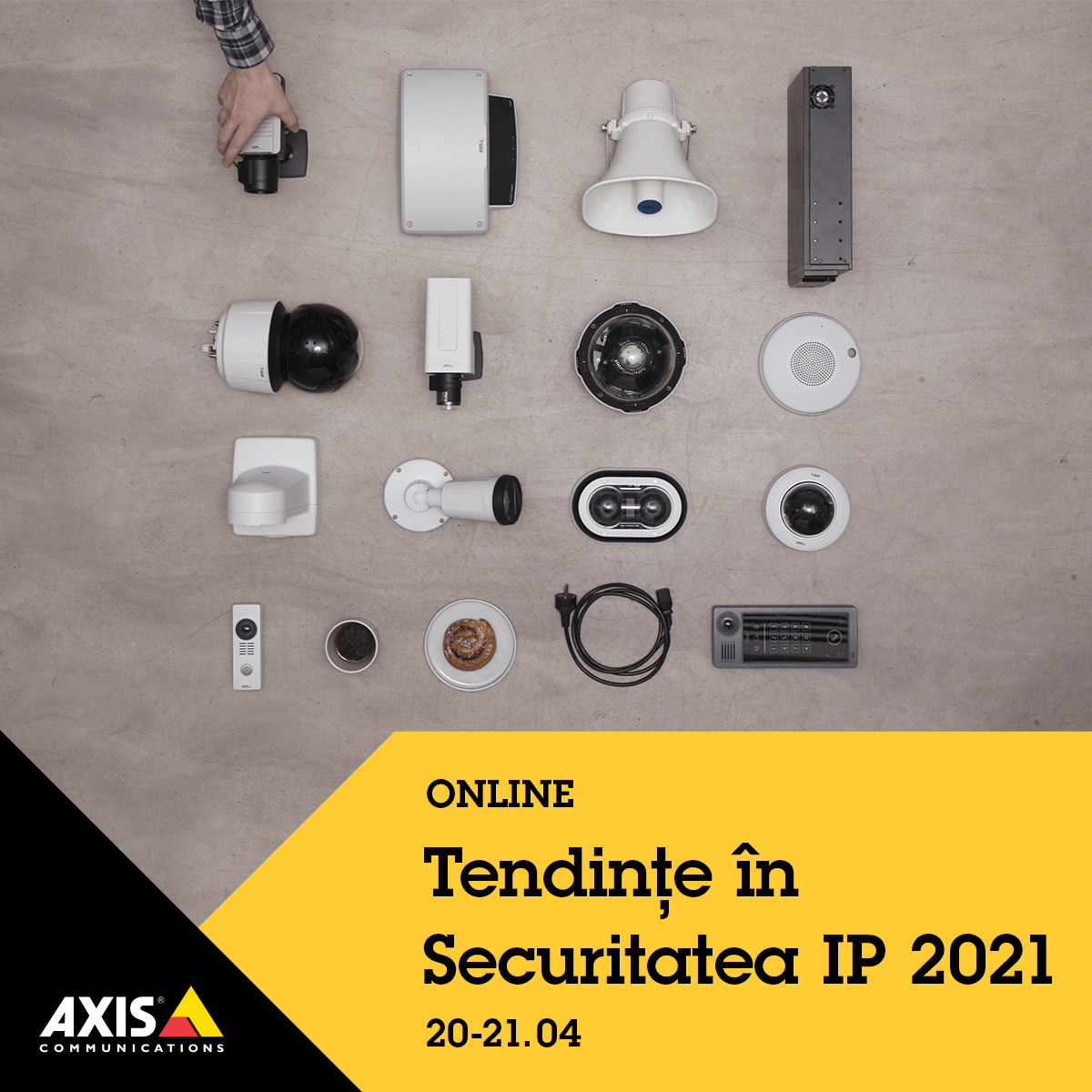 Axis Communications, lider global în echipamente video de rețea, organizează pe 20 și 21 aprilie evenimentul regional Axis Talk 2021. Aflat la a doua ediție în format online, evenimentul este o platformă deschisă tuturor clienților Axis, rețelei de parteneri, integratori și distribuitori, utilizatorii tehnologiei Axis, precum și celor interesați de tendințele în domeniul supravegherii și securității.
Axis Talk 2021 aduce în atenția participanților noi inovații inteligente din domeniul securității, povești de succes ale clienților, conversații relevante și soluții inspirate atât pentru integratori, cât și pentru clienții finali.
Inovarea este, ca de fiecare dată, "firul roșu" al evenimentului. "Growth through innovations – Today & Tomorrow" este prezentarea de deschidere a evenimentului susținută de Verena Rathjen, Vice President EMEA, și Magnus Zederfeld, Regional Director – Eastern Europe, urmată de "Innovations in a horizontal world and a portfolio update" în care Johan Paulsson, Chief Technology Officer, și Peter Rietz, Director of Product Management, vor analiza noutățile din portofoliul companiei. Liderii Axis Communications vor arăta cum imaginația proiectanților de soluții și tehnologiile inteligente integrate de parteneri în sisteme de securitate vor contribui la definirea unei lumi mai sigure.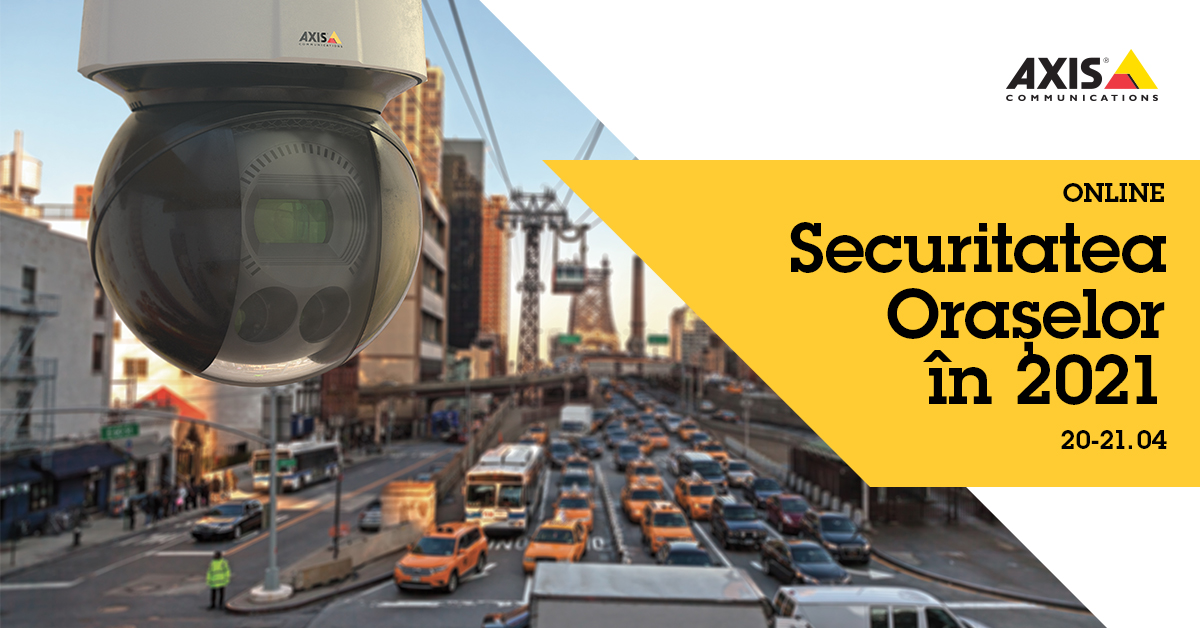 Echipa locală a companiei va avea o prezență activă în cea de-a doua zi a evenimentului. În prezentarea "Smart and safer cities, the future is now",
Bogdan Gavril, Sales Engineer și Trainer Axis Academy, va detalia modul în care pot fi gestionate soluții inovatoare și scalabile pentru orașele viitorului. "Conectând oameni, date și echipamente, orașul inteligent va crea un loc mai prietenos, mai sigur, mai bun pentru comunitate. Împreună cu partenerii noștri, Axis oferă soluții scalabile pentru sistemele de camere de supraveghere și IoT, prin intermediul cărora autoritățile găsesc modalități de a proteja siguranța cetățenilor și calitatea vieții, în timp ce își utilizează bugetul mai eficient", a declarat Bogdan Gavril.
O privire de detaliu asupra securității la nivel de companie, de la perimetru până în orice punct din spațiile de birouri sau de operațiuni, propune Marius Potorac-Roman, Major Accounts Manager, în cadrul prezentării "End-to-end – complete surveillance and security solution to protect your premises". Dar ce se înțelege prin "end-to-end"? "În accepțiunea Axis, acesta este un sistem de securitate complet, adaptat și validat nevoilor specifice unui client, bazat pe soluțiile Axis, de la sistemul de management video la toate echipamentele conectate," ne-a declarat Marius Potorac-Roman, completând: "Acesta poate varia de la o singură cameră video care să urmărească intrarea în birou sau o sută de camere și alte dispozitive de securitate conectate în rețea, cum ar fi difuzoare, interfoane și soluții de control al accesului, un sistem în care scalabilitatea și interoperabilitatea sunt cuvinte de ordine".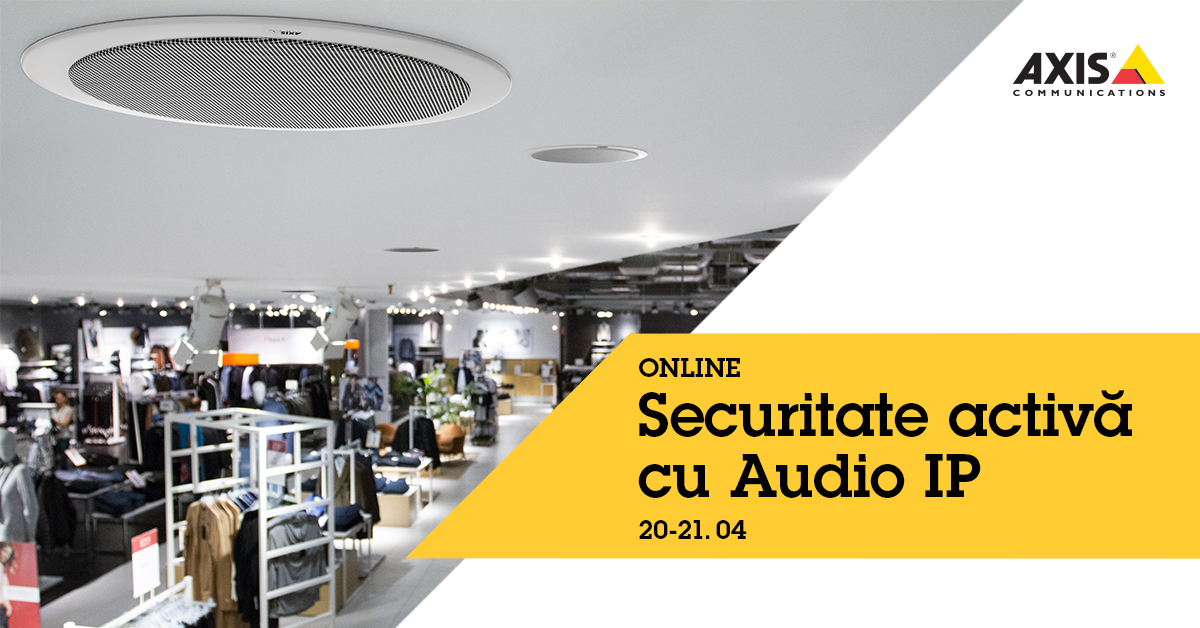 Mircea Tudosie, Inside Sales Account Manager, se va concentra pe provocările cu care se confruntă jucătorii din retail și va expune viziunea Axis pentru acest sector în prezentarea "Retail – adapting to the new normal ahead of the competition". Soluțiile video de rețea oferite de Axis pot ajuta la reducerea furturilor și a fraudei și pot acționa ca un factor de descurajare a infracțiunilor. "Dar rolul acestora nu se limitează la atât," subliniază Mircea Tudosie. "Combinând hardware-ul cu analiza video, managerii magazinelor vor găsi modalități de a reduce timpul de așteptare al clienților, de a crea un mediu prietenos pentru a atrage vizitatori, de a aloca eficient personalul și, în cele din urmă, de a crește profiturile," a adăugat Tudosie.
Acestea sunt doar câteva dintre subiectele abordate pe parcursul celor două zile ale evenimentului, 20 și 21 aprilie 2021. Vă invităm să vizitați site-ul Axis Talk 2021, acolo unde puteți consulta agenda, face cunoștință cu speakerii și vă puteți înregistra.