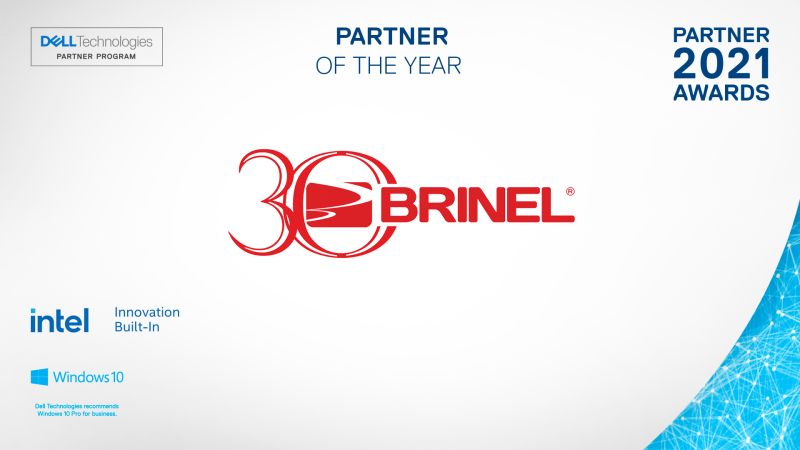 BRINEL este partenerul Dell Technologies care a obținut cele mai bune rezultate în 2020, în România! Integratorul IT a fost desemnat "Partner of the Year", în cadrul evenimentului Partner Awards de anul acesta.
Prin munca și experiența echipei, BRINEL a susținut dezvoltarea pieței și a ajutat clienții să adopte tehnologia care răspunde cel mai bine acestor vremuri provocatoare, iar acest lucru a fost recompensat de către Dell Technologies, furnizor de tehnologie esențială, prin oferirea titlului de "Partenerul Anului".
Juriul a evaluat partenerii în funcție de complexitatea proiectelor implementate, eficiența operațiunilor, dar și rezultatele de vânzări pentru anumite grupe de produse și segmente de piață. Ediția din anul acesta s-a desfășurat în format virtual și a reunit online mai bine de 60 de parteneri din toată țara.
"În cel mai dificil an din punct de vedere al logisticii și al livrărilor, un an de incertitudine, Dell Technologies și-a onorat toate angajamentele, iar relația noastră s-a întărit enorm datorită commitment-ului asumat și respectat. Suntem recunoscători pentru parteneriatul solid și de durată pe care l-am clădit! Acest premiu încununează munca unui an plin de provocări, în care am rămas alături de clienții noștri, cu același devotament, ajutându-i să depășească dificultățile generate de pandemie și să progreseze pentru a-și atinge obiectivele digitale", spune Marcel Borodi, CEO & Founder BRINEL.
BRINEL s-a numărat printre premianți la fiecare dintre edițiile de până acum. Compania IT se află de câțiva ani deja pe lista restrânsă a Partenerilor Titanium, cel mai înalt nivel de parteneriat oferit de Dell Technologies și are astfel acces la resurse extinse pentru a-și ajuta clienții mai rapid și mai eficient ca niciodată.
În calitate de partener Titanium, BRINEL deține competențele și experiența necesare pentru a proiecta și implementa cu succes un portofoliu consistent de soluții, de la echipamente și instrumente mobile până la servicii de management a infrastructurii complexe, concepute pentru a se adapta la forța de muncă aflată în continuu proces de transformare.