Festivalul "Vara magică", aflat la ediția a X-a, vă invită să vă bucurați de candoarea muzicii clasice interpretată de celebrii artiști: violonistul David Lefèvre, violoncelistul Édouard Sapey-Triomphe şi pianistul Andrey Yaroshinsky în data de 21 iulie, începând cu ora 19:30, la Ateneul Român. Programul serii propune o selecție din cele mai celebre opere din muzica clasică de Serghei Rachmaninov, Franz Schubert și Johannes Brahms.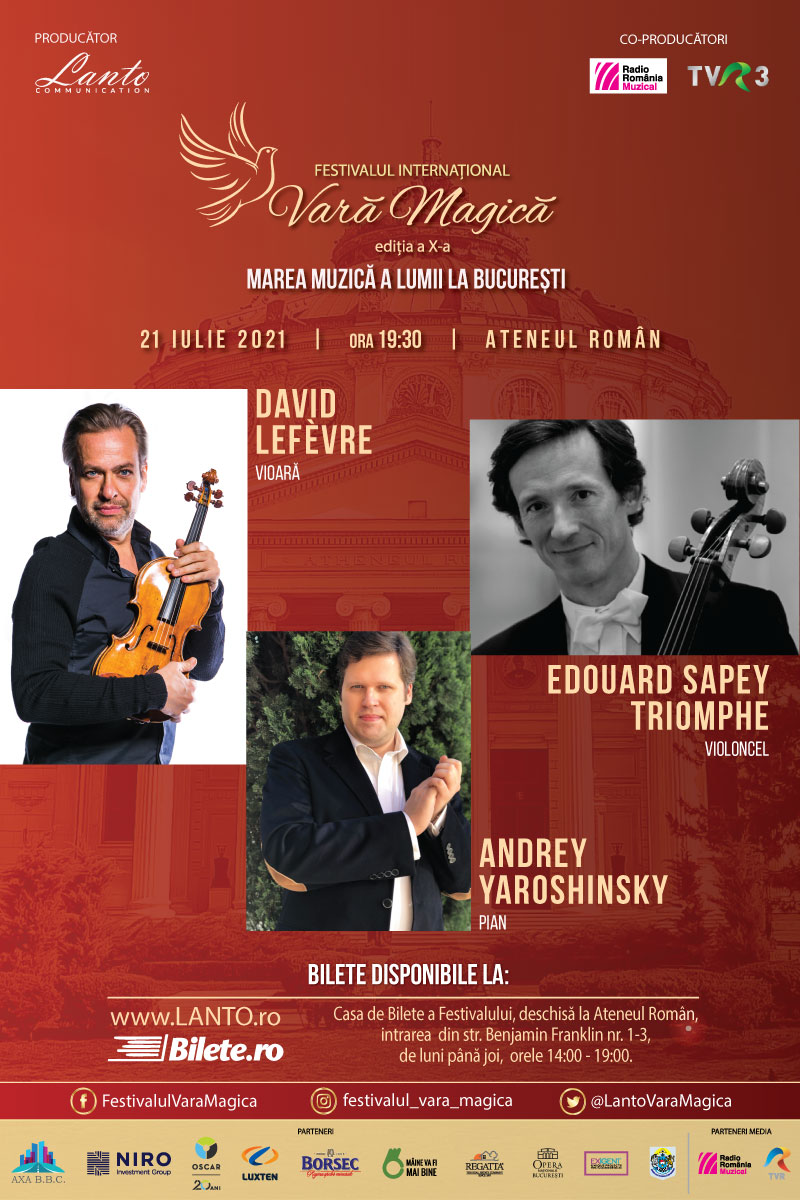 Violonistul David Lefèvre se impune prin talentul, pasiunea și versatilitatea sa muzicală. Artistul îşi bucură publicul cu sunetul viorii Dalla Costa, care datează din 1745. Astfel, David Lefèvre este unul dintre marii ambasadori ai noii generații de violoniști. După ce a câștigat Premiile Fundațiilor Yehudi Menuhin și George Cziffra și a obținut Marele Premiu la Premier Concours International de violon de Douai, David Lefèvre și-a început cariera de prim solist la: Orchestre National du Capitole de Toulouse, Orchestra Montreal I Musici, Orchestra Simfonică a Insulelor Baleare, Lisabona Gulbenkian Orchestra, London Mozart Players of London și Monte-Carlo Philharmonic Orchestra. Înregistrările sale au fost unanim apreciate de criticii francezi și internaționali. Din 1996 este director artistic al Festivalului de muzică de cameră Val d'Isère MusicaVal. David Lefevre este concert maestrul Filarmonicii din Monte Carlo.
Violoncelistul Édouard Sapey-Triomphe a studiat la Conservatorul (CRR) din Boulogne-Billancourt, unde a obținut un premiu I pentru muzică de cameră. S-a alăturat apoi Conservatorului Național de Muzică și Dans (CNSMD) din Paris. A interpretat pentru Orchestra de Operă din Paris și Orchestra Filarmonică Radio France și este prim violoncelist al Orchestrei Naționale de la Lyon încă din 1997.
Pianistul Andrey Yaroshinsky a absolvit studiile la Conservatorul Ceaikovski din Moscova. Este unul dintre câștigătorii concursurilor: F. Chopin din Varșovia în 2005, "JOSE ITURBI" din Valencia, (2006, 2010), Sommerakademie Mozarteum Salzburg în 2007. În 2010 a fost câștigătorul premiului I și a trei premii speciale la ediția a XVII-a a concursului internațional de pian "PREMIO ITURBI" din Valencia, Spania. Pianistul a susținut concerte la London Royal Philharmonic, precum și în Rusia, Ucraina, Polonia, Republica Cehă, Slovacia, Spania, Franța, Italia, Grecia, Finlanda, Germania, Austria, Anglia și SUA. Din 2015 este președinte al Asociației Tinerilor Muzicieni din Rusia.
"Această ediție a Festivalului Vara Magică se desfășoară sub deviza "Marea muzică a lumii la București", așa că avem șansa unică de a îi vedea live, pe scena Ateneului pe acești mari artiști: violonistul David Lefèvre, concert maestrul Filarmonicii din Monte Carlo, împreună cu Edouard Sapey Triomphe, prim violoncelist al Orchestrei Naționale de la Lyon, și pianistul Andrey Yaroshinsky. Vă așteptăm așadar miercuri, pe 21 iulie, de la orele 19:30 la Ateneul Român", a declarat Dorin Ioniță, organizatorul Festivalului Vara Magică, directorul Lanto Communications.
Festivalul Vara Magică va continua pe 28 iulie, cu un program original al pianistei și compozitoarei Sînziana Mircea și invitatele sale, program însoțit de videomapping pe scena Ateneului Român. Între 4 și 19 august, festivalul va avea câte două spectacole pe săptămână, în zilele de miercuri și joi de la orele 19:30. Vă invităm să urmăriți agenda festivalului și biletele disponibile pe site-urile www.lanto.ro, www.bilete.ro şi la casa de bilete a festivalului deschisă la Ateneul Român, intrarea din strada Benjamin Franklin nr. 1-3, de luni până joi, între orele 14:00 şi 19:00.
Coproducator al evenimentului este Televiziunea Romana, iar partenerii media sunt: Radio Romania Cultural,si TVR.
Partenerii Lanto Communications in cadrul Festivalului Vara Magica sunt: Filarmonica George Enescu, Borsec, Grand Hotel Continental, Hello Hotels, Ibis Hotels, Luxten, OSCAR, NIRO Investment Group, Vizual Graph, Regatta – The Real Estate Company, EXIGENT, AXA BBC, Fundatia Maine va fi mai bine, Opera Nationala Bucuresti, EXIGENT Development, Institutul Cultural Roman.