Vertiv (NYSE: VRT), furnizor global de infrastructură digitală critică și soluții de continuitate, a anunțat astăzi disponibilitatea sistemelor monofazate de alimentare neîntreruptibilă (UPS) cu modele de baterii litiu-ion, extinzându-și portofoliul de UPS-uri line-interactive. Cu capacități cuprinse între 1500 – 3000VA în designuri ce pot fi montate în sistem turn și rack, familia Vertiv™ Edge Lithium-Ion de UPS-uri monofazate extrem de eficientă este acum disponibilă în Europa, Orientul Mijlociu și Africa (EMEA).
Datorită cerințelor de întreținere reduse, bateriile litiu-ion (cunoscute și sub numele de Li-ion sau LIB) sunt potrivite pentru a fi implementate la marginea rețelei, unde suportul IT este limitat. În comparație cu bateriile clasice (VRLA), bateriile litiu-ion au o durată de viață de până la 3 ori mai mare, ceea ce îmbunătățește costul total de proprietate (TCO). Mai mult decât atât, acestea funcționează cu eficiență mai mare, la temperaturi mai ridicate, sunt mai mici, mai ușoare și oferă durate de funcționare mai lungi decât bateriile VRLA utilizate pentru sistemele UPS în această gamă de putere. Familia de UPS-uri Vertiv Edge Lithium-Ion oferă până la 10 minute de rezervă a bateriei la încărcare maximă, spre deosebire de aproximativ 4-5 minute pentru un UPS standard cu baterii VRLA.
"Pe măsură ce digitalizarea este tot mai prezentă, multe aplicații migrează către marginea rețelelor și necesită o protecție fiabilă a energiei," a declarat Karsten Winther vicepreședinte pe vânzări pentru Vertiv în EMEA. "Sistemele UPS cu baterii litiu-ion oferă avantaje în ceea ce privește costurile și funcționarea și, de asemenea, reduc nevoia de întreținere la fața locului. În cele din urmă, acest lucru înseamnă mai multă stabilitate și economii pentru implementări edge critice și o gamă mai largă de opțiuni pentru clienții noștri."
UPS-ul Vertiv Edge Lithium-Ion este ideal pentru site-uri edge computing și pentru aplicații din domenii precum medical, bancar, educație, retail și guvernamental. Vine cu o garanție standard de cinci ani pentru partea electronică și pentru baterie. Sistemul poate fi integrat cu Vertiv™ VR Rack pentru o soluție standardizată de infrastructură IT, ce poate fi implementată cu ușurință în diferite locații edge.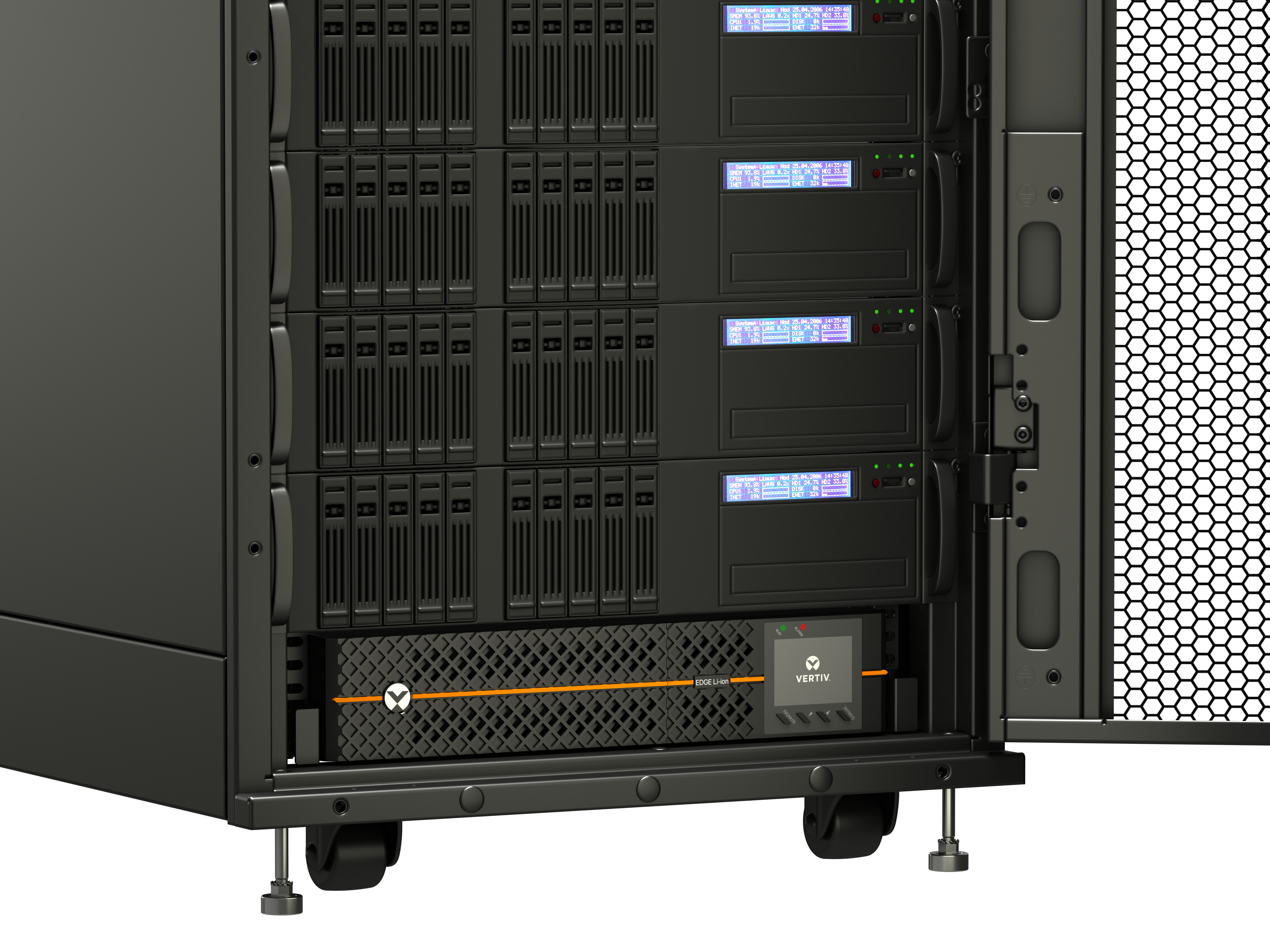 Familia de UPS-uri Vertiv™ Edge Lithium-Ion este susținută de software-ul Vertiv™ Power Insight, ce poate fi descărcat gratuit de pe site-ul Vertiv. Vertiv Power Insight permite utilizatorilor să monitorizeze și să gestioneze cu ușurință până la 100 de unități de distribuție a energiei rack (rPDU-uri) și sisteme UPS, cu protecție de oprire pentru servere individuale și virtuale, oferind vizibilitate sporită și o mai bună gestionare a multiplelor locații edge. Noua versiune a Vertiv Power Insight oferă integrarea în VMware vCenter, pentru a simplifica gestionarea și disponibilitatea energiei.
Pentru a afla mai multe despre utilizarea bateriilor litiu-ion cu sisteme UPS monofazate, descărcați raportul Vertiv, The Advantages of Using Lithium-Ion Batteries as A Backup Power Source in Single-Phase UPS Applications for Remote and Edge Data Centres.
Pentru mai multe informații despre Vertiv Edge Lithium-ion și alte sisteme UPS de la Vertiv, vizitați Vertiv.com.