Aplicația de food delivery Tazz este acum disponibilă în AppGallery, magazinul de aplicații al Huawei. AppGallery și Tazz au semnat un MoU (Memorandum of Understanding) în cadrul evenimentului de lansare al nova 10 Series, ultimele modele de telefoane care îmbină designul elegant cu performanța unei camere frontale ultra-puternice și modurile SuperCharge avansate. Colaborarea dintre cele două business-uri a început în luna septembrie a acestui an, prin integrarea aplicației Tazz în platforma AppGallery.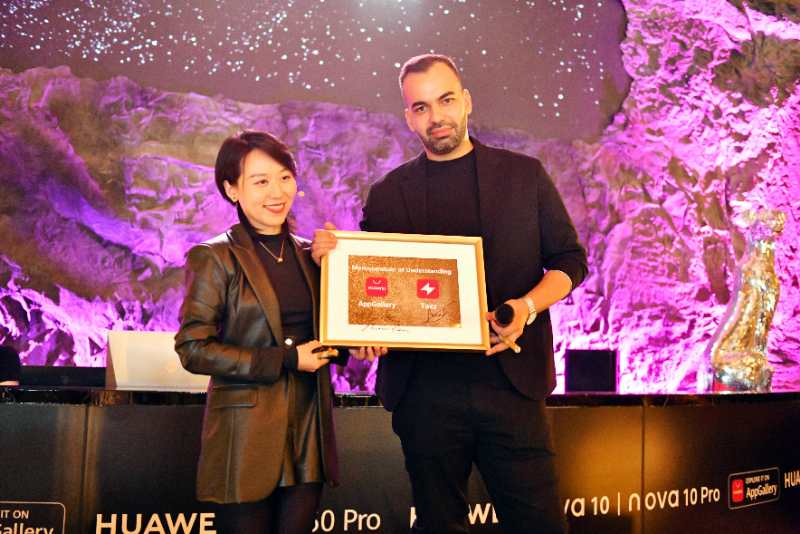 Echipa Tazz, reprezentată de CMO Răzvan Acsente, și-a exprimat întregul suport pentru o colaborare de lungă durată cu magazinul de aplicații AppGallery. Cele două business-uri își propun să împărtășească resurse de cooperare pe termen mediu și lung pentru beneficii de ambele părți. Tazz este una dintre cele mai cerute aplicații de către consumatori pe plan local, iar strategia de expansiune a AppGallery ține cont prioritar de nevoile consumatorilor.
"Suntem încântați să anunțăm integrarea aplicației Tazz în AppGallery, fiind una dintre cele mai populare aplicații de food delivery din România, iar acum ea poate fi descărcată rapid și ușor pe orice telefon Huawei. Iar semnarea unui MoU în cadrul evenimentului de lansare al nova 10 series vine să completeze un acord reciproc de încredere și colaborare de lungă durată ca parteneri de business. Însă înainte de toate, ne bucură faptul că putem oferi consumatorilor acele aplicații pe care și le doresc cel mai mult, astfel încât experiența de utilizare a AppGallery să fie una pe măsura așteptărilor", a spus Sharon Ren, Head of Romania Ecosystem Development & Operations, Huawei Consumer Business Group.
AppGallery este principala cale de descărcare a aplicațiilor într-un telefon Huawei, aflându-se în top 3 magazine de aplicații. Dezvoltarea continuă a platformei a dus la integrarea a mai mult de 216.000 aplicații în AppGallery la nivel global, înregistrând mai mult de 580 de milioane de utilizatori activi lunar. În jur de 5.75 milioane de dezvoltatori din întreaga lume colaborează cu Huawei Developer Alliance.
Tazz este platforma locală de livrare rapidă care oferă la doar un click distanță preparate de la cele mai bune restaurante din țară, dar și produse diverse: de la cumpărături zilnice, medicamente și flori, la cărți, articole sportive, produse de îngrijire personală și înfrumusețare. Utilizatorii Tazz au parte de beneficii exclusive – comandă de grup, evenimente culinare cu chefi locali și plată cu toate cardurile de masă disponibile. Cea mai descărcată aplicație "Food & Drink" din România*, Tazz poate fi accesată de pe orice telefon mobil, dar și online pe www.tazz.ro, din peste 33 de orașe din țară.