F64, cel mai mare magazin dedicat pasionaților de fotografie și videografie, anunță pentru prima dată Black Friday de vară cu reduceri de până la 40%. Astfel, în perioada 9-12 iunie 2023, pasionații care vor dori să-și achiziționeze produsele preferate au șansa să găsească numeroase oferte la o gamă largă de produse. Printre brandurile participante se regăsesc Sony, Canon, Panasonic, Nikon, DJI, Godox etc.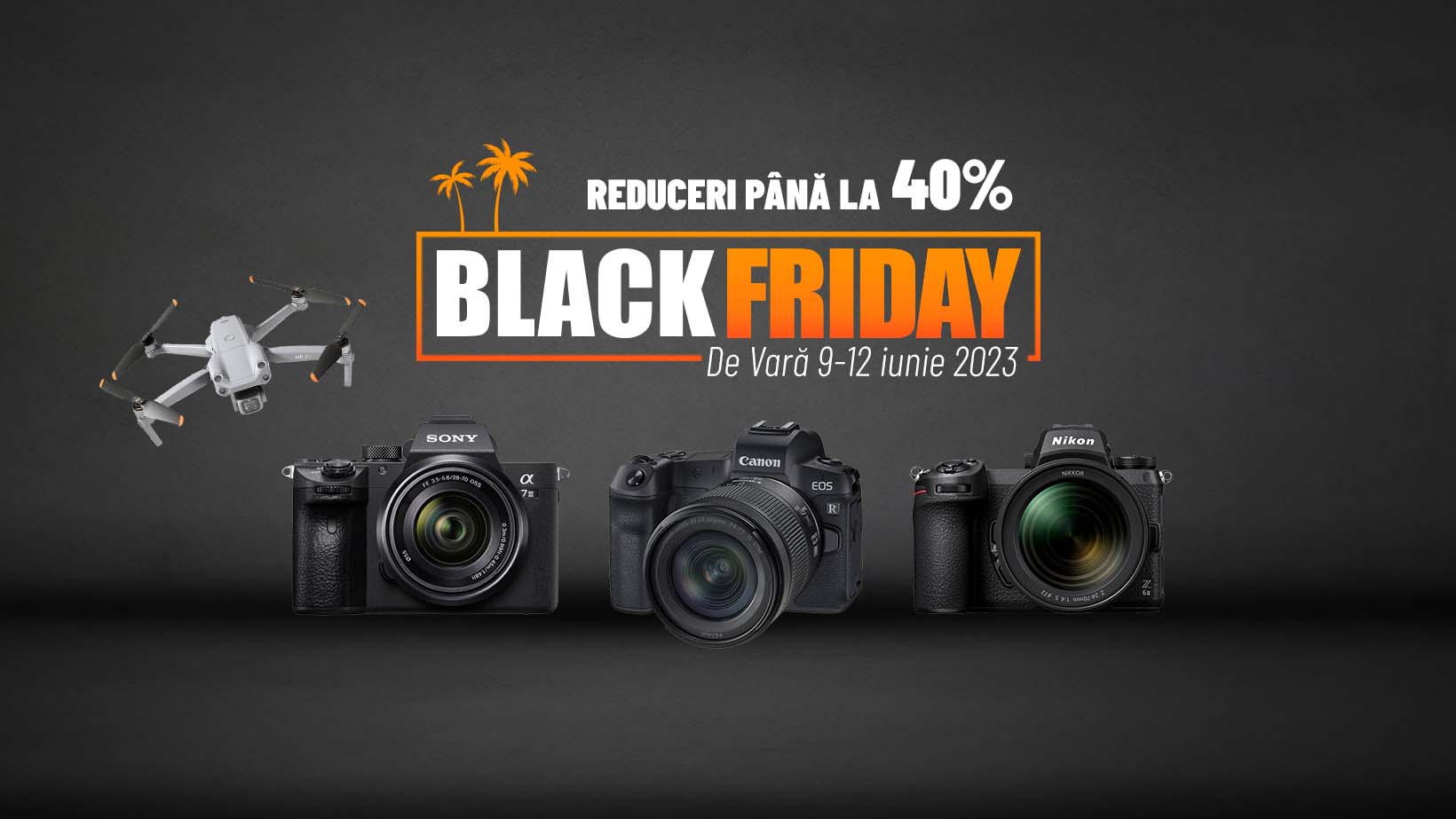 Black Friday de Vară pune la bătaie o gama generoasă de produse la ofertă. Astfel, clienții F64 vor avea la dispoziţie o varietate mare de produse, de la camere foto profesionale până la accesorii, drone, obiective, blitz-uri și multe altele.
Printre produsele vedetă din această campanie menţionăm:
• Sony ZV-E10, Sony A7 III
• Sony A7S mark III
• Canon R6
• Panasonic Lumix S5 body
• Nikon Z6 II
• Canon RF 24-70mm
• Sony 85mm
• Mavic Air 2S Fly More Combo
• DJI Ronin-SC2 Combo
Ce trebuie să faci pentru a fi sigur ca vei prinde promoţiile? F64 a pregătit câteva sfaturi de care trebuie să țineți cont:
1. Crearea unui cont pe site-ul F64 – magazinul recomandă să aveți un cont creat înainte de începerea evenimentului pentru a nu irosi timpul completând datele persoanale, de livrare și de facturare.
2. Adăuga-ți produsele favorite în wishlist – stocurile sunt limitate, așadar salvați produsele preferate într-o listă ca să le puteți accesa ușor.
3. Abonați-vă la newsletter pentru a afla despre toate ofertele – prin înregistrarea la newsletter-ul F64 vă asigurați de faptul că veți primi notificări și actualizări despre toate noutățile și promoțiile speciale de Black Friday. Totodată, beneficiile înregistrării nu se limitează doar la Black Friday-ul de vară, ci se extind și la alte promoții pe tot parcursul anului, astfel că veți fi mereu la curent cu evenimentele speciale, lansările de produse, promoțiile organizate de magazin și multe alte oportunități de care puteți beneficia.
4. Verificați limita cardului – în cazul în care doriti să cumpărați un produs de o valoare mai mare, vă asigurați astfel că tranzacția va fi una reușită
În perioada 9-12 iunie 2023, magazinul F64 va funcționa cu următorul program:
• Vineri 9 iunie: de la ora 09:00 și până la 21:00
• Sâmbătă 10 iunie: de la ora 09:00 și până la 19:00
• Duminică 11 iunie: Închis
Plata în rate este disponibilă și puteți opta inclusiv până la 24 de rate fără dobândă. Dacă aveți nevoie de ajutor sau de sfaturi, consultanții F64 vă stau la dispoziție în magazin sau online.
De asemenea, pe data de 8 iunie, la ora 19:00, pe canalul de Youtube F64, va avea loc o dezbatere foto în care reprezentații brand-urilor de top (Sony, Nikon, Canon, Panasonic) vor împărtăși cunoștințele și perspectivele lor asupra fotografiei.
Sub numele de Clash of the Titans, invitați precum Marian Sterea (Sony), Gina Buliga (Nikon), Mircea Maieru (Canon) și Horia Stan (Panasonic), vor fi alături de dvs și vor discuta subiecte precum: pasiune și storytelling, tehnologie și echipamente foto, promovarea fotografiei în 2023, sfaturi pentru cei aflați la început de drum și modalități de monetizare.
Înscrierile pentru Clash of the Titans, dar și mai multe informații, găsiți la link-ul atașat.