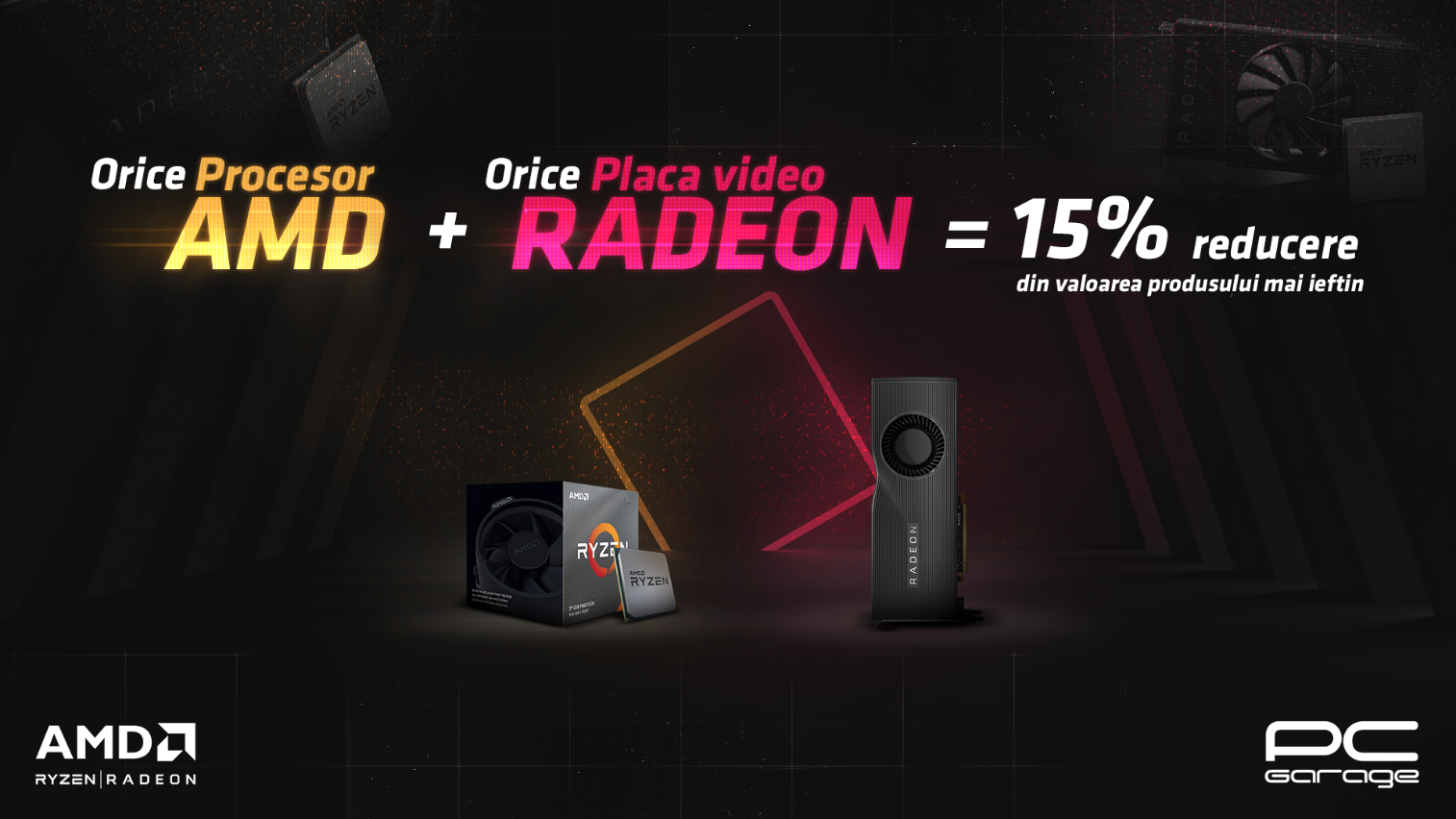 PC Garage, unul dintre cele mai mari magazine online de produse IT și electronice din România și în același timp un reper pentru toți cei pasionați de tehnologie, dă startul unei noi campanii în care oferă reducere pentru unul din produsele AMD cumpărate în combinaţia procesor + placă video. Astfel, în perioada 8-24 mai 2020, cei ce vor cumpăra un procesor AMD şi o placă video Radeon, vor beneficia de 15% reducere la unul dintre acestea. Reducerea se aplică produsului cu valoare mai mică şi nu poate fi aplicată produselor din gama Business sau resigilate.  
Serviciile informatice moderne, aplicațiile complexe, dar mai ales jocurile necesită în general un sistem de calcul performant. Un procesor puternic și o placă video pe măsură, reprezintă elementele definitorii ale unei astfel de configurații, mai ales dacă eşti şi pasionat de jocuri. De aceea, PC Garage vine în întâmpinarea celor ce vor să facă un upgrade în perioada următoare, sau care vor să construiască un nou PC, cu o ofertă foarte atractivă. Aceasta este una diversificată, cu produse destinate atât entuziaştilor, cât şi celor cu un buget mai redus. Spre exemplu, pentru segmentul de hardcore gamers, se poate opta pentru achiziţia unui procesor AMD Ryzen 9 3900X şi a unei plăci video Radeon RX 5700 XT, obţinând astfel o reducere de 275 RON.
Pentru cei cu un buget mai redus, recomandăm un duo extrem de fiabil, format din AMD Ryzen 5 3600 şi XFX Radeon RX 570 RS. Acestea împreună vor fi disponibile la un preț de 1.494 RON, după aplicarea reducerii de 15%.
Radeon™ RX 570 RS este o placă video ce oferă un raport perfomanţă/preţ foarte echilibrat, fiind perfectă pentru pasionaţii de jocuri cu un buget mai redus. Mulțumită nucleului grafic fabricat pe 14nm cu 2048 unități de procesare ce rulează la frecvențe de până la 1284 MHz, aceasta permite rularea în condiții excelente, la rezoluție 1080P şi detalii maxime, a unor jocuri precum Assassin's Creed Unity, The Division, Battlefield V, Metro Exodus, Just Cause 4, PUBG, Fortnite,  Far Cry 5 sau The Witcher 3: Wild Hunt.
Nu sunt uitaţi nici cei ce vor sa construiască un nou PC de gaming, experţii PC Garage recomandând două configuraţii.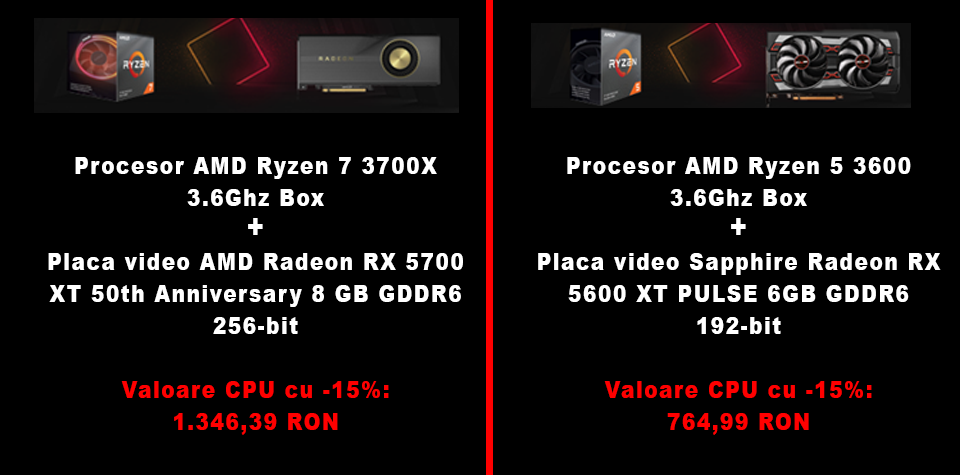 Citiți și:
PC Garage te echipează gratuit
PC Garage lansează Balaur by HyperX, un PC de gaming sub 4000 lei
PC Garage lansează "Şcoala de Hardware"