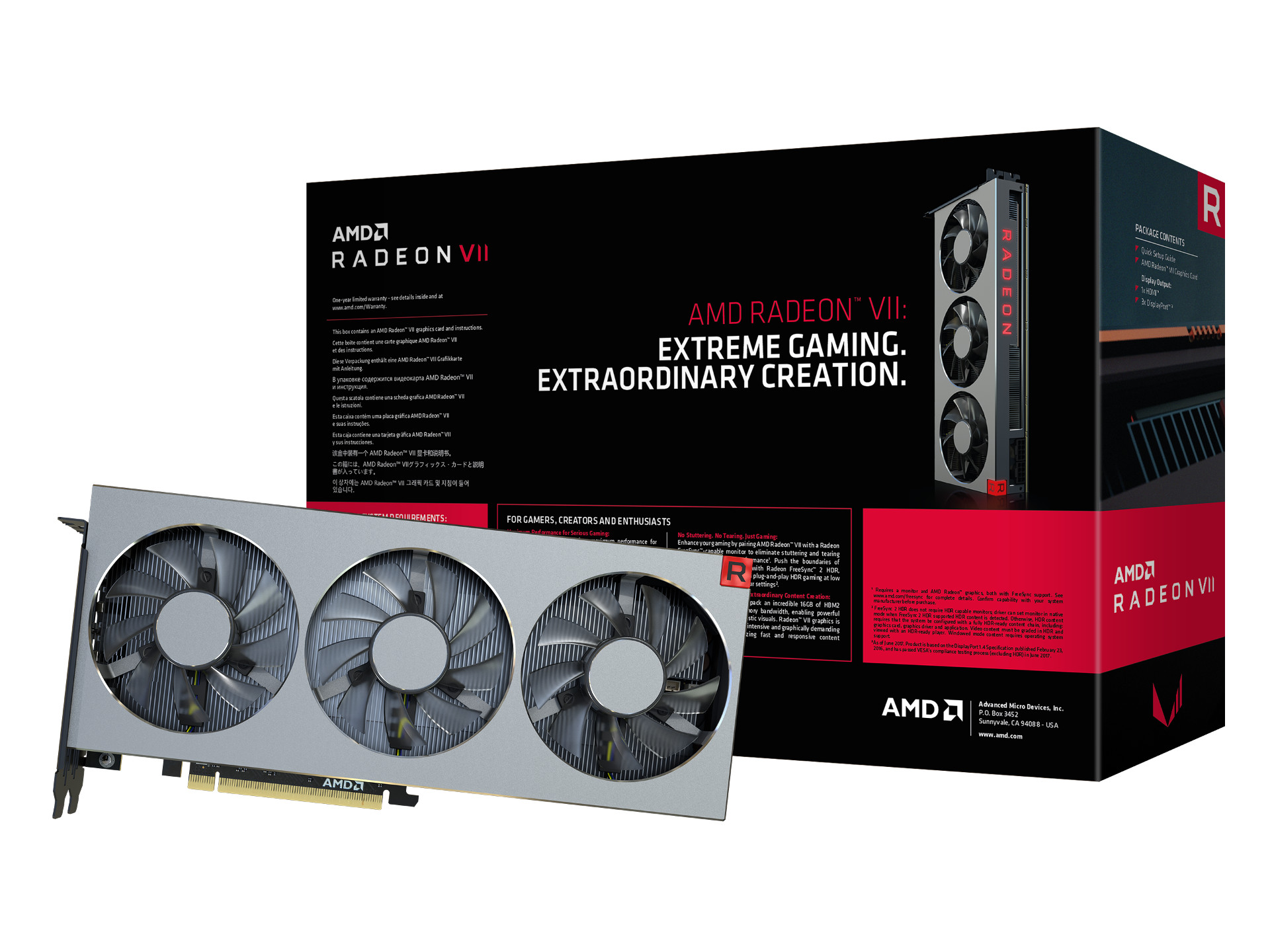 AMD a anunțat disponibilitatea primei plăci video de gaming pe 7 nm, Radeon VII aduce performanțe excepționale și experiențe uimitoare în ultimele jocuri AAA, eSports și titlurile VR care necesită un volum de lucru de generația următoare.
Bazat pe a doua generație de arhitectură Vega, Radeon VII oferă de 2x memoria și de 2.1x lățimea de bandă comparat cu Radeon RX Vega 64. Oferind setări maxime pentru framerate-uri extreme la cele mai înalte rezoluții, Radeon VII oferă  gaming cu refresh rate-uri înalte la 1080, ultrawide 1440p și 4K, în același timp oferind performanțe foarte bune în aplicațiile de generație următoare de creație video și fotografie pe monitoare 8K.
Proiectat pentru gameri, creatori și entuziaști, caracteristicile cheie ale Radeon VII includ:
60 de unități de calcul, 3.840 stream processors și frecvențe de până la 1.750 MHz care vor oferi jocuri de înaltă performanță și imagini hiperrealiste.
16GB HMB2 cu o lățime de bandă de memorie de 1 TB / s și o interfață de memorie pe 4.096 biți permit texturi la rezoluții ultra-înalte, setări hiperrealiste și caractere foarte realiste.
Performanța excelentă DirectX 12 și Vulkan, incluzând îmbunătățiri de 35% în Battlefield V și 42% în Strange Brigade comparativ cu Radeon Vega 64.
Performanța de a conduce aplicații 3D de rendering, aplicații de editare video și încărcări de lucru de ultimă generație, inclusiv performanță de până la 27% mai mare în Blender, performanță cu până la 27% mai mare în DaVinci Rezolvă 15 și până la 62% performanță mai ridicată în benchmarcul LuxMark comparativ cu Radeon Vega 64.
Fiind cel mai mare ecosistem din lume pentru tehnologia adaptivă de afișare a jocurilor, Radeon FreeSync oferă peste 550 de display-uri acceptate, oferind o experiență stutter-free pentru fiecare categorie de preț. Radeon FreeSync 2 HDR oferă o luminozitate și un volum de culoare mai mare de 2X față de sRGB.
Radeon VII este acum disponibil la 699$ SEP USD. Cu bundle-ul AMD Raise The Game Fully Loaded, jucătorii care au achiziționat o placă video Radeon VII sau un sistem cu Radeon VII vor primi versiunea de PC Resident Evil 2, Devil May Cry 5 și The Division 2, trei dintre cele mai anticipate titluri din 2019.
Citește și:
AMD dezvăluie primul GPU de gaming din lume pe 7 nm
Placa video Radeon Pro V340, soluția pentru vizualizări de sarcini bazate pe cloud