Orange România anunţă deschiderea înscrierilor pentru Cities of the Future, un program Orange Fab dedicat startup-urilor care dezvoltă produse ce îmbunătățesc experiența oamenilor în orașe, procesele administrațiilor publice ori care facilitează relația dintre cetățeni și primării. Antreprenorii se pot înscrie până pe 6 iunie pe orangefab.ro/cities-of-the-future/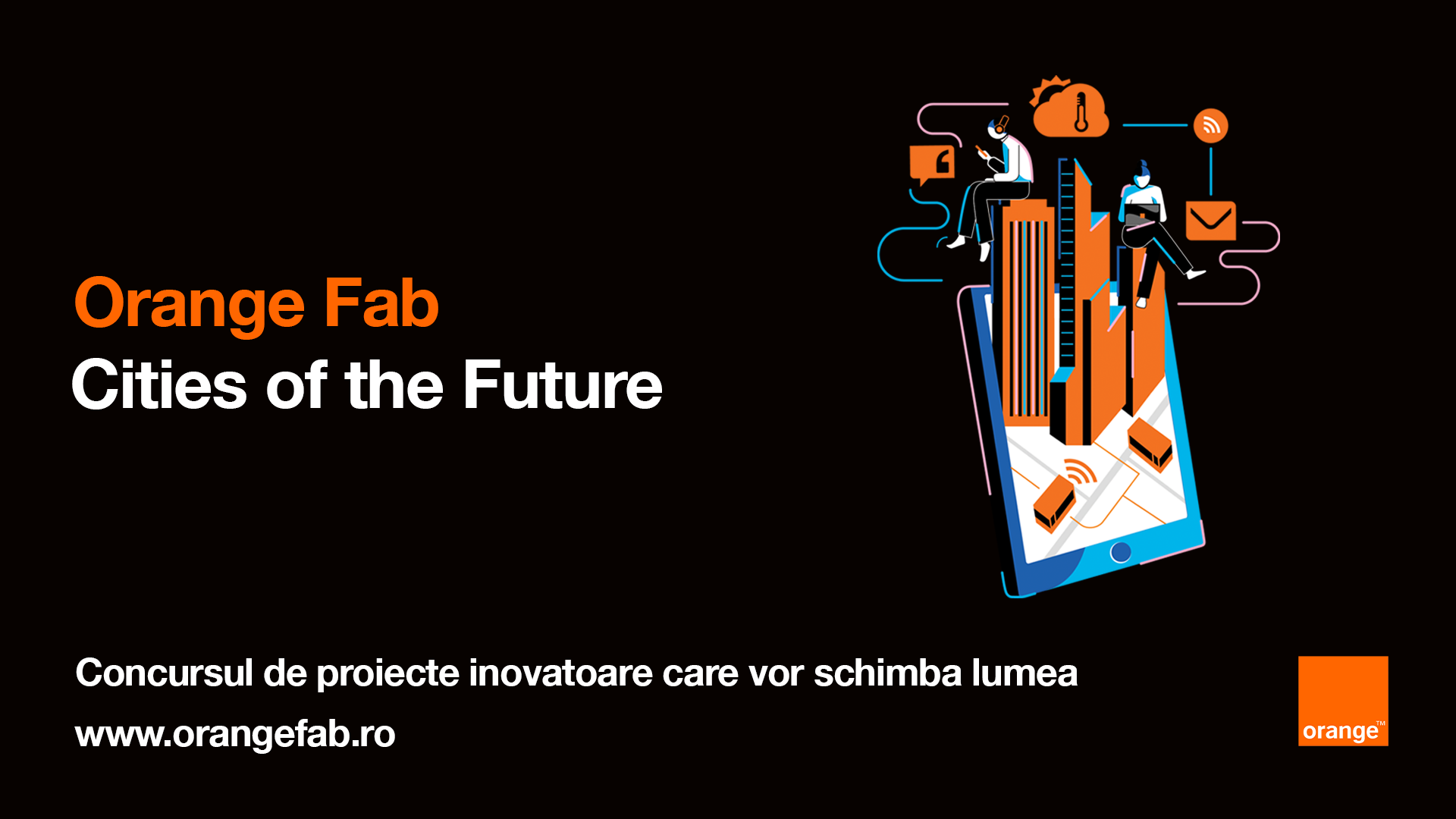 Echipele preselectate în programul Cities of the Future vor participa la o serie de discuții 1 la 1 de evaluare și feedback cu mentorii concursului, urmând ca startup-urile câștigătoare să fie prezentate într-un eveniment public pe 18 iunie. Acestea vor intra în programul de accelerare Orange Fab, unde vor beneficia de mentorat pentru dezvoltarea produselor și definitivarea planului de afaceri, acces la echipamente și tehnologii de comunicații de ultimă generație precum 5G, LoRaWAN sau LTE-M și susținere pentru implementarea proiectelor pilot.
"Prin Cities of the Future căutăm startup-urile inovatoare pe care le putem susține pentru dezvoltarea de proiecte în domenii precum: servicii și platforme inovatoare pentru cetățeni, creșterea atractivității și eficienței orașelor, încurajarea mobilității urbane sau siguranța cetățenilor. Încurajăm antreprenorii să integreze și seturile de open data pentru a descoperi noi contexte pentru orașele pe care le adresează și a construi noi produse valoroase.
Ne dorim deci, să vedem soluţii care pornesc de la o viziune îndrăzneaţă pe termen lung, chiar şi pe un orizont de 10 ani, ce vor permite viitoarelor oraşe inteligente să se bazeze pe strategii durabile şi sustenabile în timp", a declarat Cristian Pațachia, Development & Innovation Manager la Orange România.
Inovațiile Orange pentru orașe inteligente
În ultimii ani, Orange a implementat peste 30 de proiecte de smart city, de la soluții proprii de conectivitate precum Mobile Wi-Fi la proiecte speciale cu parteneri în zonele de securitate, educație, eficiență energetică, turism sau supraveghere video.
Concepul de oraș inteligent propus de Orange are la bază o platformă deschisă și interoperabilă ce poate fi extinsă și adaptată nevoilor în schimbare ale cetățenilor și municipalităților. Platforma beneficiază de infrastructură digitală bazată pe rețele de internet de bandă largă, 4G/4G+, Internet of Things (IoT), LoRaWAN, LTE-M, Wi-Fi, precum și de aplicațiile și expertiza Orange și ale partenerilor săi, startup-uri românești de high-tech și companii consacrate.
Startup-uri deja implicate în proiecte pentru orașe
Încă din 2017, Orange România susţine dezvoltarea soluţiilor de smart city prin implementarea unor proiecte extrem de valoroase, realizate în parteneriat cu startup-uri din Orange Fab, precum uRADMonitor, SecurifAI și Siscale pentru dezvoltarea de soluții de monitorizare a calității aerului, supraveghere video prin AI, respectiv analiza seturilor de date deschise prin AI.
Succesul soluțiilor pentru orașe inteligente oferite de Orange este demonstrat şi de interesul pe care autorităţile publice din oraşe precum Alba Iulia, Brașov, Cluj-Napoca, Câmpia Turzii sau Iași îl au pentru utilizarea acestor soluții tehnologice.
Mai multe informații despre Cities of the Future: orangefab.ro/cities-of-the-future/
Mai multe informații despre soluțiile de smart city Orange: orange.ro/business/industrii/smart-city